I know what you are thinking… what? Low sugar? No butter? Is this really a cookie? Yes, yes it is! It's a healthier twist on the traditional Tollhouse cookie recipe. I found a healthier version in the Olive Oil Desserts: Delicious and Healthy Heart Smart Baking cookbook I reviewed last year that removes butter and states it can be made with regular flour or whole wheat pastry flour. (I used whole wheat pastry flour.) Then, I substituted the granulated sugar for the new C&H Light Sugar & Stevia blend. I'm hoping these tweaks make it more healthy and lower the sugary carbs so I can have a couple cookies once in awhile for a snack. One thing I really do struggle with while having gestational diabetes is staying away from the sweets!
C&H® Light is an all natural pure cane sugar and stevia blend. The naturally sweet extract from the stevia plant mixed with pure cane sugar means it's all natural sweetness! This blend has half the calories of pure sugar (only 5 calories per serving!), so you can substitute 1/2 cup of C&H Light for 1 cup of granulated sugar in any recipe. Oh and I totally love the resealable bag! I hate trying to figure out how to keep an open sugar bag from spilling all over the place.
I will be honest here and tell you that I didn't remember the part about using half of the C&H Light when substituting regular sugar. I used the same amount the recipe called for, just switched the C&H Light for the granulated sugar. This is probably why I could taste the stevia! I know that some say you can't taste the difference, but I can. My cookies still tasted fine! It might not have been as obvious if I would have cut the amount down though.
Be sure to head on over to the C&H® Light: Sugar & Stevia Blend Facebook page to get a $1 off coupon!
Low Sugar, No Butter Cookie Recipe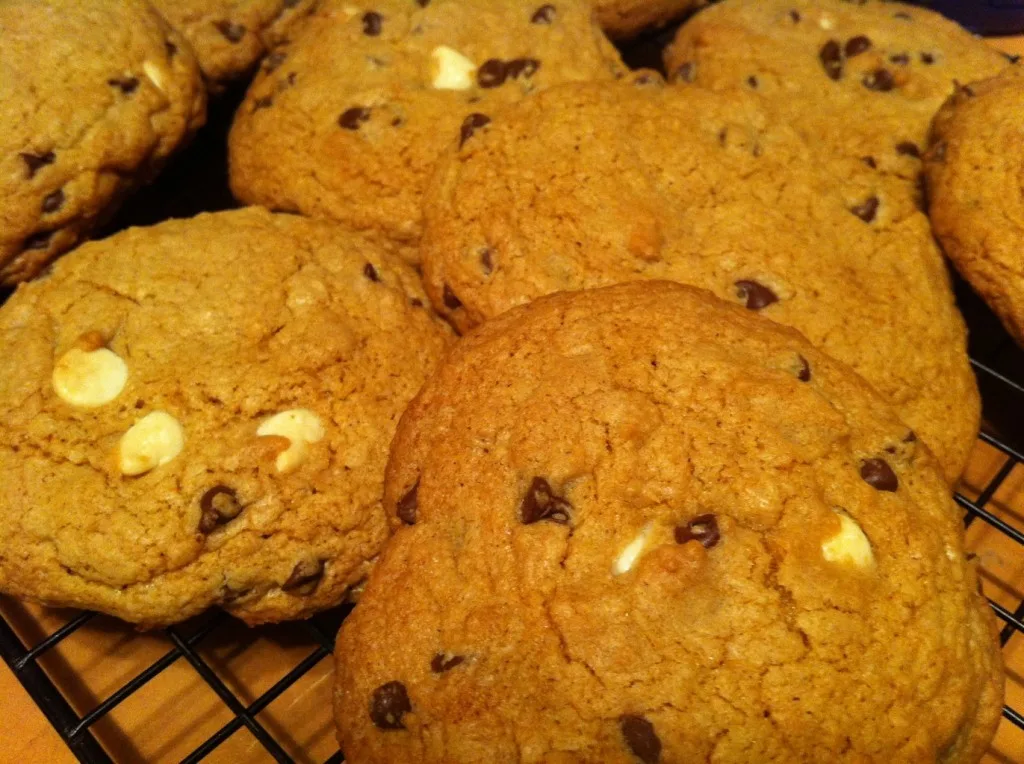 Ingredients:
2/3 cup Olive Oil
3/4 cup sugar (It calls for regular sugar, I used C&H Light but didn't half it like I was supposed to)
3/4 cup brown sugar
2 large eggs
2 tsp vanilla extract
1 TBS milk
2-1/2c whole wheat pastry flour
1 tsp baking soda
1 tsp salt
1 cup chocolate chips (I did a mix of semi-sweet chips and white choc chips)
Directions:
Preheat oven to 375 degrees Fahrenheit.
Mix olive oil, brown sugar, and sugar/stevia blend in a bowl.
Add eggs, vanilla extract, and milk. Beat until mixed together well.
Add flour, baking soda, and salt. Blend well.
Fold in chocolate chips
Lightly grease cookie sheet and drop tablespoonfuls of dough onto the sheet.
Bake for about 10 minutes.
This will make 16+ cookies depending on the size you make them. I like to make them a bit bigger so I had 19. My husband and my daughter helped to sample them while they were still warm. Everyone enjoyed their (more healthy) cookies!
Twitter Party Alert!
Domino® Light AND C&H® Light: Sugar & Stevia Blends are sponsoring a Twitter Party!

When: August 8th, 2012 from 8-10pm EST
Hashtag: #DominoCHLight
Twitter handles to follow: @Dominosugar, @Candh_sugar, @Bookieboo, and @Resourcefulmom
Prizes: $500 in Visa Gift Cards! Make sure to check out all the details and RSVP here!
_____
Disclosure: This post was sponsored by Domino Sugar.