This might sound strange, but I don't feel very pregnant lately. Sure, I get cravings, I get worn out easier than usual, I feel random movements in my abdomen, and my belly is expanding.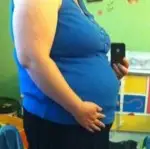 I'm 16 weeks today, but this picture was taken last weekend. My belly keeps getting bigger yet, I've lost another pound! Pregnancy is my secret weight loss secret. (Just kidding! But seriously… I lost weight when preggers last time!)
Other body changes… my feet are feeling weird. Not really swelling much at this point. They widened during my last pregnancy and permanently changed my shoe size. I can tell the ligaments and stuff are looser again because the top of my foot feels strange at times and I am getting foot/toe cramps way easier (and more frequent) than usual. I'm also still walking a lot – even did at least 3 miles one day last week!
So I know I'm preggers and I'm starting to look more pregnant as opposed to just fat, but I'm just not feeling it yet. I don't think I really felt preggo with Rissa until I started to feel her move and kick more regularly. That's when the bonding started I think.
When did you really feel pregnant?