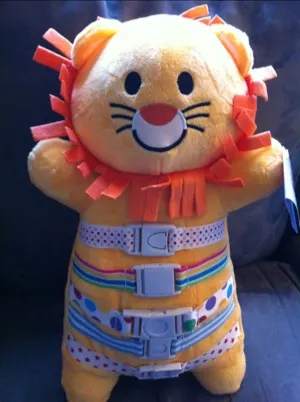 This is BuckleyBoo, a developmental toy available at Imagine Toys. When we were offered the opportunity to review him my initial thought was I don't want her to master buckles yet! But then my logical mind took back over. See, a few months ago, Rissa started showing interest in her buckles.
Buckles on her infant to toddler rocking chair, buckles on her stroller, and buckles on her high chair. She wanted to make everything "click." (That's what she says!) She was still learning how to match up the right parts but sometimes she got them right.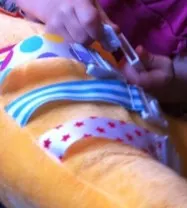 I thought about it some more and considered the benefits this toy offered in skill building.
Practicing fastening a variety of buckles helps with fine motor skills
It takes hand and eye coordination to get the buckles lined up and fastened
Undoing the buckles will further develop fine motor skills and performing two actions at once (pushing and pulling)
Problem solving
Matching of ribbons and buckles
Variety of textures (he's soft!)
Cause and effect (his head makes a tinkly chime sound when shook)
You can see Rissa's buckling skills in this video as well as a moment of frustration:

He is designed for ages 18 months through 3 years old. While she is getting more proficient at connecting them, she still needs us to separate them for her. At first I could only undo one set at a time or it was too overwhelming for her. She would keep trying to connect the wrong ends together. But now, I can unfasten all of them at once and she's able to move through them to connect them.
BuckleyBoo (or Buckadoo as Rissa says) continues to be a big hit in our house. He's a tad too big to go along on outings like some of her other stuffed animals, but she loves to spend at least a few minutes each day fastening all the buckles! She loves him so much that she started calling her grandparents "buckadoo!"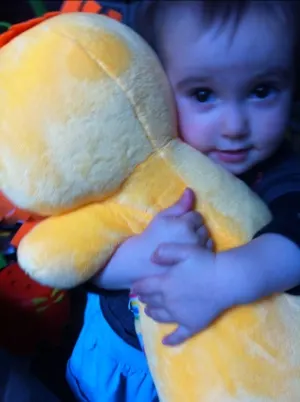 You can find BuckleyBoo and a variety of other toys that encourage children to use their imaginations and develop skills at Imagine Toys! Connect with them on Facebook and Twitter to stay up-to-date on new items and sales!
__________
Disclosure: I received a BuckleyBoo free of charge in order to conduct a review. No other compensation was provided; just fun!