I've been looking at pictures of Rissa when she was a little baby and sharing them with her. I can't believe how tiny she was! It definitely makes me happy and excited to know there will be another baby in my arms soon.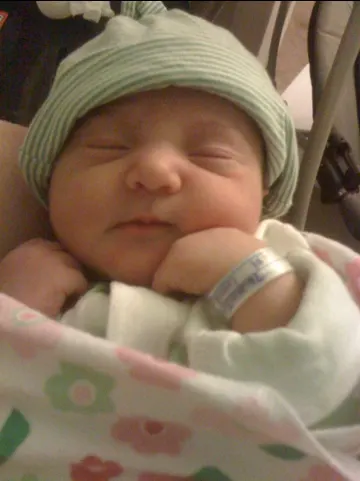 Just look at that face!
The sleep situation: it's already uncomfortable, which I don't think it was really an issue last time for a few more months. But, since Rissa is next to me and still nurses off and on through the night, my back hurts. I know it doesn't sound like it makes sense, but it doesn't hurt when she's not laying next to me. Probably the way I position myself is twisting my spine?
The cravings: are starting to come on a bit. With Rissa, I wanted pumpkin seeds and sunflower seeds a LOT in the beginning. I also wanted Qdoba food all the time. This past week I've craved things I already like strongly and suddenly like cold dill pickle spears and roasted garlic hummus. Yesterday I made Brian go to Culver's so I could get this specialty pub burger. I wanted it SO BAD, but when we got there we found out it was no longer available. I was so bummed and kept "tasting" it in my mind while I ate a different burger.
What's the strangest craving you've ever had?