The expanding belly: My OB said I'd be popping around now and she was right! You saw in last week's pregnancy journal that I was starting to show already at 12 weeks. And the belly keeps growing! I didn't really start showing until 5-6 months along with my first pregnancy.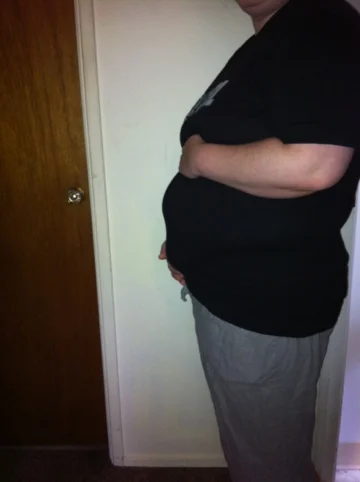 My regular pants (even the ones that were loose!) are feeling tight and uncomfortable. So, I got out the maternity clothes I packed away in the closet! Can't believe I'm wearing them already. I haven't really gained any weight either so the walking 1-2 times a day plus keeping up with a toddler is helping! (I'm overweight so it's actually better for me to "lose" weight or gain very minimally.)
The last OB visit: I saw my OB on Thursday and we heard the baby's heartbeat! Rissa didn't quite know what to make of it. My OB thinks everything is going just fine and thinks I might not have early gestational diabetes this time (I can hope!), but to play it safe, next month I'll be doing the 1 hour glucose test.
The sibling factor: We have a few books we are reading with Rissa about a new baby and being a big sister. One book she really likes, and I hope they help her as well go along. She likes to help and share, so I'm going to focus on those things – making her a special helper – to keep her involved. She's also bonding more with Daddy, which I think will be important too!