I got creative in the kitchen last night and combined two foods we all enjoy without qualm. Baked spaghetti and bread. Yum. This was carb goodness. And so simple no matter how you do it.
Dough:
My dough was a dinner roll recipe for my bread machine, no kneading dough here! You could also use a packaged frozen/refrigerated dough, make sure to plan ahead for thawing time. Cover and let rise for the duration of spaghetti cooking time. Preheat the oven to 425.
Spaghetti:
I made a pot of spaghetti, one serving less than I would normally make, mixed the sauce and some browned ground beef together.
Roll out your dough, what ever thickness you'd like, in a rectangle shape making sure to you have enough dough to wrap up and over your spaghetti. Pile the spaghetti down the center of your dough and cut diagonal slits along the edge of the dough for wrapping over the spaghetti.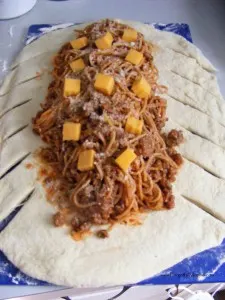 I sprinkled on some Parmesan, cut up some cheese (mozzarella or cheddar) and place it over the spaghetti and start wrapping it up.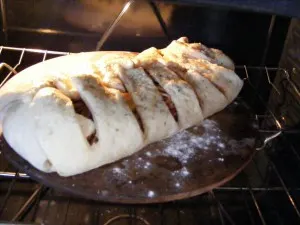 Melted some butter and spread it over the top and sides of the bread/dough, sprinkle your choice of seasonings over it. I used garlic salt, Italian, paprika and onion powder.
Bake for 15-20 minutes. Allow it to cool for a minute or two before cutting or digging in.