Want to play a board game with the family but don't have an hour plus to commit? Are you a fan of the classic Cranium game by Hasbro? If so, then you'll like the new Cranium Brain Breaks!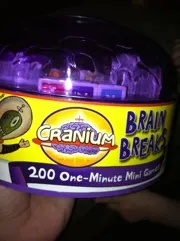 Cranium Brain Breaks offers 200 mini games that can be played in a minute. It features the classic Cranium categories star performer, word worm, creative cat, and data head. Two or more players can play simply by drawing a card and doing what it says. Collect cards by guessing right and doing activities correctly.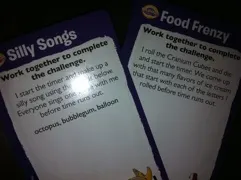 Oh how I wish I was an octopus,
then I could hold 8 balloons.
They'd be pink like bubblegum,
but wouldn't pop!
We love Cranium! I'm not very good at making things with the clay, but it tests your creativity and performance skills. You might have to mold an object, draw it, make up a silly song, impersonate someone or something, answer trivia and more. Everything is stored in a cute brain shaped box. While it looks nice, it doesn't stack well in the game closet. It is nice having a mini version that doesn't require as much time to play. You can do a few cards for fun or set a limit for determining the winner. Play as individuals or teams! It's meant for ages 8 years old and up and retails for $14.99. It's brand new this fall! This would make a great holiday gift for the whole family!
Giveaway!
To enter, please fill out the Rafflecopter form below. Comments will not count as official entries. Duplicates will be removed.
______
FTC Disclosure: I received the product(s) mentioned above free of charge by the company or PR representative in order to conduct an honest review. I was not compensated in any other way for this post. The thoughts, experiences, and opinions included are entirely my own and may differ from that of others. I am not liable for any issues you may incur from use of said product(s). Images used are owned by me or provided with the company's permission unless otherwise sourced. See full disclosure information. If you have any questions you can contact me or leave a comment.