Do you loathe lugging a high back booster seat around? Have you ever wondered if you need to bring your booster seat along on a trip?
There is so much to pack when traveling with kids already and if you are flying, you may hesitate to check your booster seat (with good reason). But what do you do when you reach your destination? Renting a booster may or may not be an option.
I want to share with you an incredible portable booster seat option that you are going to love – not only for family travel, but for carpooling too.
Disclosure: We received the mifold booster to review and we tried it out first in the 2018 Mitsubishi Outlander that we received to test drive. All thoughts and opinions shared are our own. This post also contains affiliate links which means we may earn a commission if you make a purchase.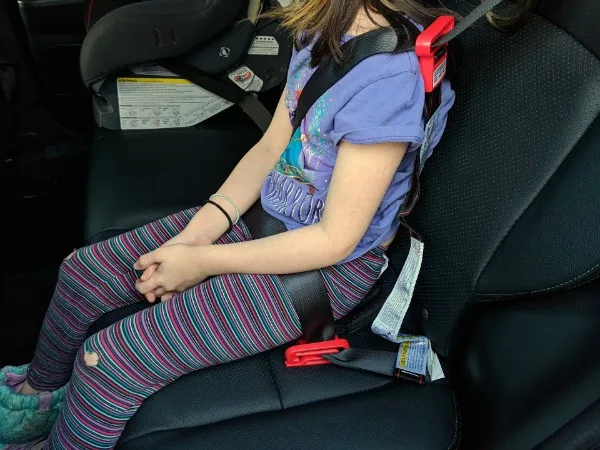 The One Thing You Need to Simplify Traveling With Kids
While taking road trips can be fun adventures, they are not always convenient. There are times where flying or taking the train to your destination is more practical. Figuring out how to get around with our kids on the other end brings up lots of questions and can be confusing.
There's no question that child safety seats are important to use, but figuring out what that looks like for your family may vary. When my son was an infant, I knew I needed to take along his car seat. It was a pain at times trying to do a quick install in the taxi.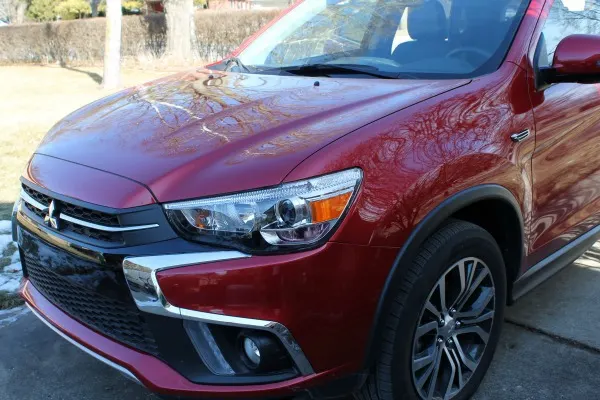 Now that my kids are a bit older, I have found a new solution with mifold, "The Grab and Go Booster." I'm pretty excited about it and hope it'll help make traveling with your kids easier too!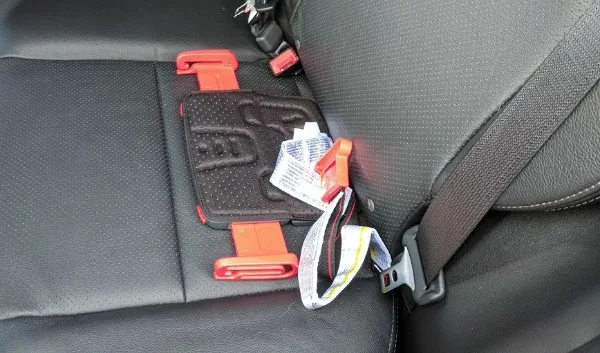 When we received the 2018 Mitsubishi Outlander to test drive, I was able to install the mifold quickly rather than moving my daughter's high back booster seat out of our vehicle.
Benefits of using the mifold booster seat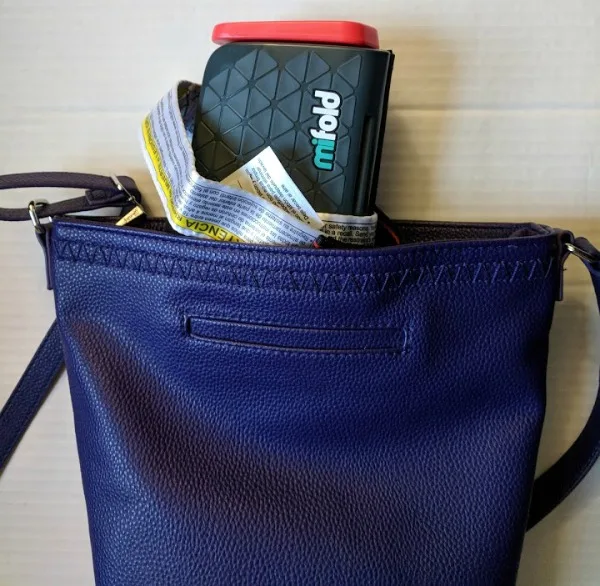 The mifold booster is 10 times smaller than most booster seats which makes it incredibly easy to pack. It even fits in my purse! (And I don't carry a huge diaper bag type purse anymore so space is more precious.) So depending on where you are going, you can stick it in your purse, backpack, or suitcase until you need it.
It's quick and easy to install. The sides are simple to adjust to the correct width for your child. Older children could thread the seat belt through the guides themselves. The mifold booster keeps the lap belt across your child's thighs and positions the shoulder belt where it should be. Most boosters raise children up higher in order for the seat belt to be positioned safely whereas the guides on the mifold bring the belt down to where it should go.
Where you can use the mifold booster seat
The mifold can be used in pretty much any vehicle where you would normally install a booster seat for a child. Taking the mifold booster along with you takes out the worries of installing a large booster or trying to rent one.
This makes the mifold perfect for use in:
taxis
car rentals
carpooling
During the summer, Amtrak often has specials on train tickets between Milwaukee and Chicago. I usually don't take advantage of taking the train because we'd still need the kids' seats if we need to take a taxi. Now, it's easy to take mifold along in case we need it!
I also like that it can be used for a quick impromptu trip with Grandma or when one of my daughter's friends needs a ride. The mifold is an affordable option to keep a spare booster seat on hand.
Know if your child is ready for the mifold booster seat
The mifold booster is designed for children aged 4-12 years old that weigh between 40 to 100 pounds. Even if your child meets the age and weight criteria, your child should also be able to sit safely in a backless booster seat by sitting still in the car.
If you have younger children, they will still need their child safety seat. Once your child is able to use a mifold booster seat, it will make traveling easier and smoother!


More family travel tips you may enjoy reading: