One of the first things I wanted to figure out as new parents was how we could save money on baby gear. I'm not a money saving expert. In fact, I am much better at spending than saving. Well, I guess I have some idea on how to save so you can spend. Oh, don't listen to me! Some of these money saving tips are actually quite good.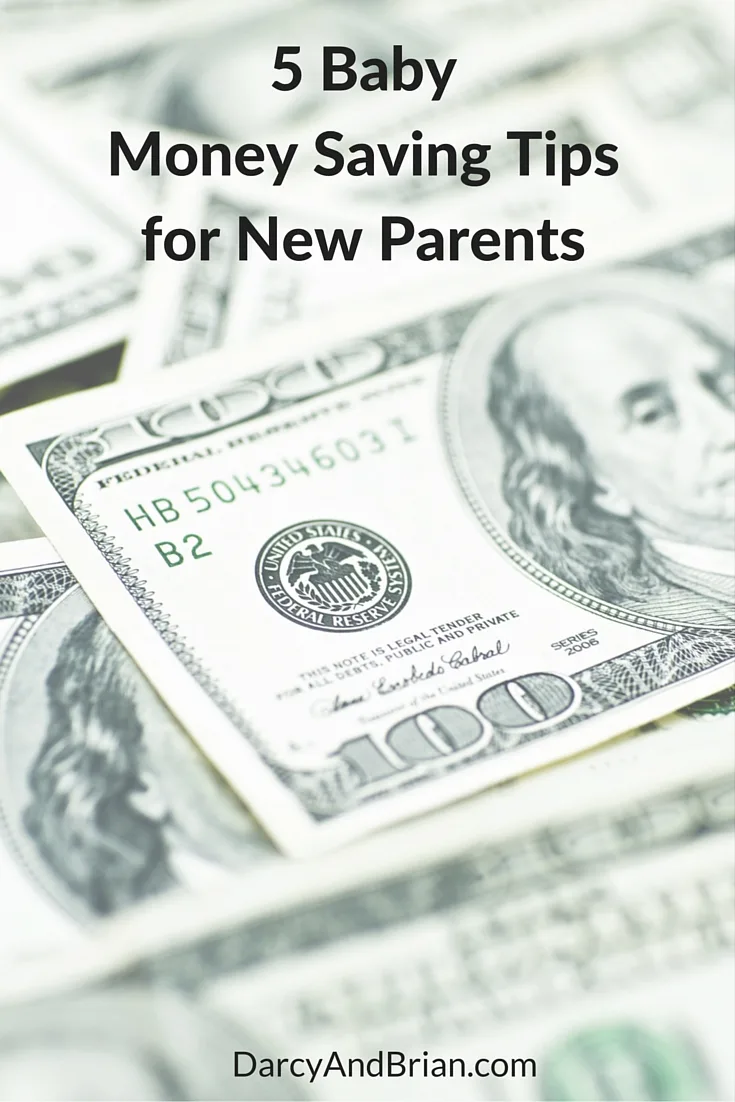 My Top 5 Baby Money Saving Tips
This post may contain affiliate links.
#1 – Use cloth diapers – even part-time. I know, I know. I have been slacking on this lately and trust me – our budget feels it. Seriously though, the $200ish initial investment will save you way more than that in the long run.
#2 – Get rid of cable. Don't be locked into paying high prices for limited, scheduled entertainment. There are plenty of cheaper options like Netflix, Hulu, Redbox, and YouTube (just to name a few) that can entertain you for less. Plus, with a baby you won't watch as much TV of your choosing anymore anyway.
#3 – Get second hand clothing and gear. Okay, I am a total sucker for new clothes and gear, but really, you'll save a ton if you get used items. Most stuff will probably be in very good condition still. Get items from family members, friends, your local Freecycle or Buy Nothing group, CraigsList, eBay, and maybe Goodwill. I never seem to find anything at Goodwill for babies anymore. Not sure why.
#4 – Sign up for Amazon Prime. You might think the annual fee is a bit crazy but you get FREE 2 day shipping on virtually everything you order. I love Amazon. We're best friends. I order from there a lot and shudder to think what all that shipping would have cost me if I wasn't a Prime Member. While I don't always find cheaper prices on Amazon, sometimes there are really amazing deals. Plus, if you do use disposable diapers, Amazon Subscribe & Save is a great deal AND those diapers arrive on your doorstep without your sleep deprived mind needing to think about it.
Try Amazon Prime 30-Day Free Trial
#5 – Breastfeed and/or make your own baby food. I understand not everyone can breastfed or doesn't want to nurse, but formula is expensive! And after baby starts on solids, it will save you money to mash and grind up your own food. It's honestly not that bad. Jarred baby food also adds up, so even if you make your own part of the time you'll save yourself some dough. Bananas, avocados, mangoes, peas, carrots and butternut squash are all quite easy to smash up for your little one. And mashed potatoes!
What money saving tips do you have for new parents?