Disclosure: We received a Leading Lady nursing bra to review and an Utterly Yours pillow. This post contains affiliate links as well.
Imitation Play Reveals A Lot
I didn't realize how much my daughter would learn by having a baby brother. Not that she couldn't learn how to be nurturing without a baby in the house, but I can tell she is carefully observing. In fact, I've learned a lot about my own parenting behavior by watching and listening to her pretend play. I hear my own words echoed… which sometimes stings.
I knew I was yelling way too much when I witnessed Rissa yelling at her "friends" (her toys she brings to life with her imagination). That quickly made me rethink my approach to dealing with frustration. (And I'm happy to say that I rarely hear the toys yelling at one another now.)
Little Mommy in Training
Before Xander's arrival, we encouraged Rissa to treat her newborn baby doll, Zoe, nice and gentle. She played with her a little bit, but her interest in baby dolls was (and still is) sporadic. Her favorite friends continue to be the Yo Gabba Gabba plush gang that was gifted to her over the course of last year.
And a pattern emerged.
Rissa would take her friends to the doctor and use her stethoscope on them, tuck them into bed instructing them to rest, and even put bandages on them. They are frequently ill, injured, or otherwise upset and needing comfort.
It's adorable to watch her cuddle them close or cradle them in her arms, swaying side to side like a mom with her baby. And, she has started to imitate me in feeding and burping her baby dolls and Gabba friends.
Learning About Breastfeeding
I'm still breastfeeding my toddler as well as the baby, which provides Rissa a new perspective on it. She is now learning about how breastfeeding and observing it. She does recognize that babies may take bottles, but nursing is normal to her.
I'm teaching her how to be confident about nursing a baby because she sees me do it at home and in public. She has watched me pump breastmilk and asks questions.
What are you doing, mommy?
It is a common question these days which I answer to the best of my ability for her age. Let me tell you, she can definitely identify lots of body parts!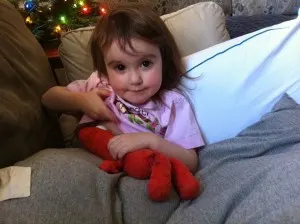 The most adorable thing is seeing Rissa nurse her dolls. She puts a pillow on her lap, raises her shirt, and positions them. She announces when she switches sides and refers to it as "Rissa milk" (because she says only mommy has "mama milk"). No matter which toy she is nursing, we've given her nothing but encouraging words. She looks so proud when she's feeding her babies while I feed her brother!
Since I'm nursing so often between these two kiddos, I require good quality nursing bras and a way to free up my hands.
Having larger breasts means I generally have to hold them while nursing, especially in the newborn days. I've tried rolled up burp cloths and receiving blankets, but they don't keep my breast propped up. The Utterly Yours breast pillow sounded like the perfect solution for me. I need at least one hand free to play with Rissa or do other things while Xander eats.
The breast pillow is a simple solution. Instead of getting squashed between breast and belly, it does hold it up. While it is a good solution for this, I find it a bit awkward to get it and baby positioned. It raises me up higher than I usually hold it, so I have to make sure to elevate X if I'm using it. The tag is a scratchy annoyance.
But, Rissa has confiscated it for her nursing pillow for Muno.
I can't tell you exactly how many times of day I need to unsnap my nursing bra flaps, but I'm amazed they don't get wore out or busted. (Unfortunately, the hooks in the back don't always stay intact, ending the life of my bras before the rest of it is close to giving out.)
Many of you know by now that I'm a fan of Leading Lady nursing bras. I've reviewed them before and purchased some on my own. Recently I received the active wirefree nursing bra from their Loving Moments nursing collection.
I'm really liking the active bra – it's my favorite to date because of the extra padding on the straps. Plus it seems to hold everything in place better. I'm still not satisfied with any nursing bras for doing jumping jacks in unless I'm wearing at least two.
I'm not kidding. But I digress….
Anyway, I find it important for my children to learn about breastfeeding and see moms nursing. I find it's a beautiful thing for my kids to see, especially since they learn a lot by observing us. My hope is that both my son and daughter will continue to see breastfeeding and normal and natural. That my daughter will feel confident if she becomes a breastfeeding mom and that my son will be a supportive husband and father if he has children.