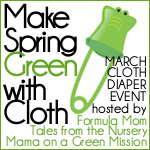 It's officially Spring and it's time to think GREEN and I'm not just talking flowers and plants! If you haven't made the switch to reusable diapers yet, now is a great time to consider it – even if you just cloth diaper part-time. Or, if you are a fluff lovin' mama like me, then maybe it's time to re-evaluate your stash a bit.
When I started cloth diapering over a year ago, I figured I just needed the diapers, know-how to put them on, and wash them properly and all would be right in the world. Well, unfortunately I didn't realize how Rissa's wetting patterns could change as she grew. Since she turned one year old in October, we've been struggling on and off with night time leaks. This rarely was a problem before!
Apparently she was a frequent wetter, but of small amounts, when she was littler. That gave her inserts more time to absorb. Now she goes less often, but wees more all at once. This can happen too quickly for the fibers to soak it up. At first I thought a couple of our pocket diapers were repelling, but that wasn't the case. Most of her diapers were just fine during the day, but at night… pee everywhere. Part of it was all the stuffing was causing gaping around her thighs. So, when the gush happened, a lot would pour out the sides. UGH!
I've been desperately experimenting with our diapers to find a better nighttime leak solution. One thing that I needed to look at was new inserts for at night. Inserts that were trimmer, but very absorbent so her diapers weren't overstuffed. Thankfully, I received the opportunity to try a Knickernappies one size pocket diaper with LoopyDo inserts from Abby's Lane.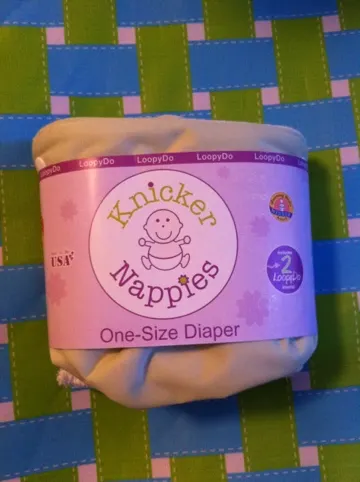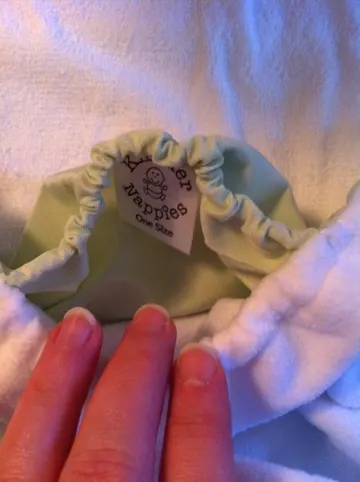 The LoopyDo inserts caught my attention because they are supposed to be some of the best inserts. I never heard of them before (gasp, I know!), but when I read that they have two very thirsty layers of a hemp/terry blend and two layers of microfiber I needed to try them. Plus, they come pre-washed – NO PREPPING! I admit, I tend to use new cloth diapers pretty quick after washing, but I know they can't be worn as long until they are properly prepped. These inserts are pretty much good to go after the first wash.
In fact, I used them overnight after just the second wash! And guess what? No leaks.
I've really grown to love pocket diapers and I'm pleased with this Knickernappies one size pocket diaper we received in celery. A nice spring green color! They are designed to best fit babies 8-40lbs. There are 4 rise adjustments in the front, making it easier to adjust while diapering your little one. I am loving sidesnaps now that Rissa tries to take her diapers off! The pocket has elastic around the opening to help hold in the insert(s), but is wide enough for easy stuffing. I felt the shape of this diaper contoured nicely instead of trying to fit Rissa into a square.
This is one of the few diapers that truly does not leave red marks. They use Lastin elastic which is gentle and long lasting. The diapers and inserts are made in the US and they have a 2 year warranty on elastic and snaps! I wish I could show you just how nicely Knickernappies fit on Rissa, but with our yeast issue, I wasn't able to get all the pictures I needed.
I daresay we have found our new overnight solution! I've tried both LoopyDo inserts overnight which works, but makes a very full stuffed diaper. I've also used one insert with another regular one with no problems. I have yet to try just one LoopyDo through the night, but it works through naptime. I also like that they easily fit in other diapers too, though this Knickernappie has become my favorite for overnight!

If you are thinking of getting either of these, be sure to head on over to Abby's Lane to order! They are one of my favorite cloth retailers and once we beat this yeast, I plan to order more LoopyDos from them. They offer free shipping to all US orders – which I love! they have a brick and mortar shop as well as the online store, where they offer classes and other fun opportunities. Their newsletter has a special discount code included for recipients and offers great tips on cloth diapering in each one. There was a series about dealing with rashes that I found particularly educational and helpful.