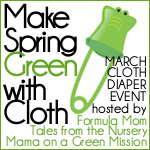 I don't own very main All-in-One (AIO) cloth diapers because I find they don't get clean enough and they take too long to dry. Plus, I can't usually add additional absorbency. I had one I liked a lot, but I've found a new one I like just a bit more: The Simplex AIO by Swaddlebees. We received this diaper to review from an online cloth retailer, Mombecks. We certainly appreciate the opportunity!

Mombecks has been cloth diapering for 10 years! She has 5 children who all were in cloth so she definitely has experienced and tested a variety of styles on multiple children. One thing is for sure, one diaper may be perfect for one child while it's not such a great fit for another. At MomBecks store you can purchase products she has used personally and she offers free shipping! She also offers a newborn cloth diaper rental program. It's a great price at $10 per week for a newborn stash of 24 fitteds and 4 covers. I might have switched to cloth sooner if I'd known about a rental program like that!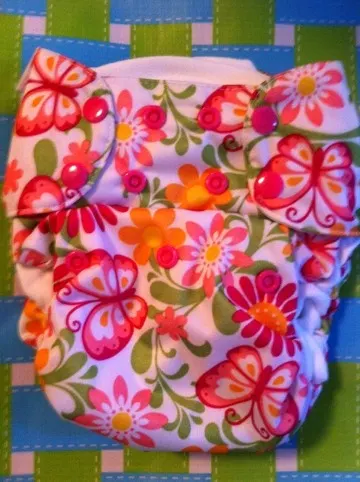 This diaper has gotten a lot of use since we received it nearly two months ago. I can't wait to get Rissa back into it once the yeast is dealt with for good. I reach for it so often that I have to remind myself to wait and use it at better times like when we are out and about or someone else is watching Rissa. I love this print – it's so bright and cheery and perfect for spring. I hate to cover this one up!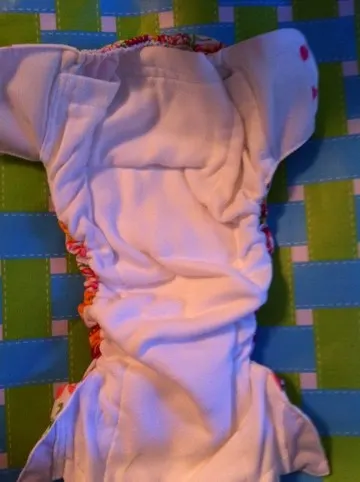 There are 10 thirsty layers of 100% cotton. The inner seems thick and can be a little bulky. It is not the trimmest cloth diaper out there. After putting it on, I always check Rissa's thighs to make sure all of the inner is tucked in. There are two pocket openings – one on each side. The soaker is attached, but part of it comes out. This makes laundering better as it gets cleaned more thoroughly in the wash and dries faster. I always put this one in the dryer. I love that it is an AIO with pocket diaper funtionality. I have not used this diaper overnight even with the option for extra stuffing, but we have used it for general day use and naptimes without an issue.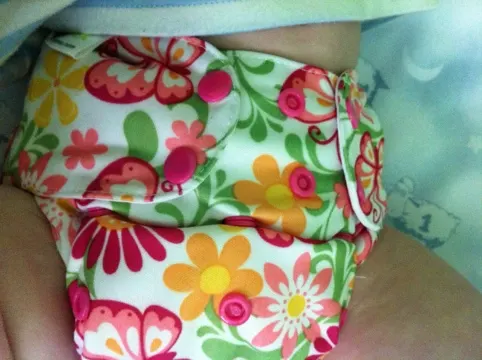 It is a one size diaper so it should last her until she's out of diapers. I was able to get a nice fit on her skinny thighs, though it would gap some if I stuffed it with an extra insert. There is plenty of room for my skinny mini to grow. I had the waist almost as tight as it would go. On a baby any smaller I think it would be almost too bulky. Swaddlebees does make a newborn version which I would be interested when/if we have another child.
This diaper is definitely daddy, daycare, and any other baby-sitters friendly though I'd suggest stuffing the soaker in before leaving it alone with any of them. I love that there is no unstuffing needed even if you add an extra insert. The double pocket opening makes it possible for it to agitate the soakers out in the wash.
If you want to see how this diaper works on a variety of sized kiddos, check out Mama on a Green Mission (20 month old boy and a newborn girl) and Formula Mom (a 16 month old topping the growth charts) for their reviews!