At the end of last week, Rissa was very excited that a package came just for her. Although when I asked, "what's inside?" she put her arms up in the air and excitedly yelled, "Mama!" She was thinking of one of her other favorite books, but her face sure lit up when I pulled out a new plush toy and a new book!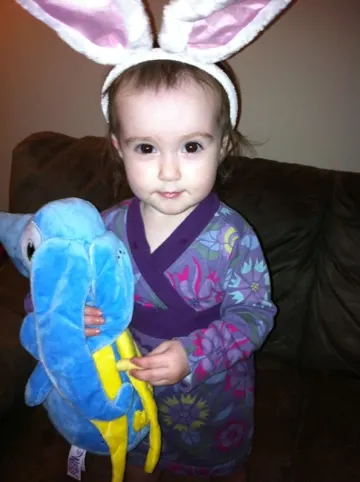 We received Wince, one of the WorryWoo Monsters and his book Don't Feed the WorryBug. This one isn't quite as rhyme-y as The Nose That Didn't Fit so Rissa has yet to sit through an entire reading. It can take time to introduce her to a new book though, since she's a creature of habit! (It does have a rhyming pattern, just not as tight as the other book.)
The WorryWoo tales are geared toward preschool aged children and up, so Rissa is technically young for them. However, I like to start sharing their important lessons with her early. Plus, she loves the stuffed characters! Wince got taken to bedtime last night for snuggles!
One if the things I like best about these books by Andi Green is that they have positive messages about how we see and care for ourselves. Fun stories like these provide a great way to share and teach important lessons like not worrying too much. Heck, even I could use that reminder! It's so easy to worry more and more until the worries take over when you focus on them. That dang WorryBug!
In this book, Wince starts to worry about things that need doing, and suddenly the worries grow until Wince can't even sleep. Worrying too much is not good for us and makes it hard to tackle our tasks. You need to let them go! And sometimes you need friends to help you do just that.
What do you worry about?