After enough hemming and hawing and slacking off, I finally finished packing my hospital bag last week. I had it mostly packed for about a week prior, but put the last few items in at the end of last week. I thought I might go into labor by now, so I felt this urgency to get that done. Of course, now that it's all packed and ready to go… I'm not in labor yet!
When I was pregnant with my daughter, I didn't pack my labor bag ahead of time. I had items for her ready to go (like her coming home outfit), but that was it. With her, I really had no idea when I'd be going in and it just didn't seem like it would happen 10 days before her due date. Plus, I was scheduled for an induction (due to having gestational diabetes). It put this weird idea into my head that I wasn't going to have her until that day. I planned to pack the night before checking into the hospital.
Well, 5 days before my scheduled induction she decided to come on her own and naturally (thank goodness!). That was the way I wanted to have her anyhow. After several hours of contractions I still wasn't completely convinced that I was in true labor. I kept wondering if it might be false labor. After another hour and a call into my OB's office line, it seemed pretty certain I was truly going to be pushing out a baby that day. So I packed a suitcase while waiting to go to the hospital.
The on call doctor said to wait another hour and if my contractions were still coming about 5 minutes apart to head in. Walking felt better than sitting or laying down anyway, so I kept wandering around the house packing my bag. Of course I filled it with too much stuff (I think now) since it was a full sized suitcase we loaded up. But, since that hospital was 45 minutes away we made sure Brian and I had everything we could possibly need for our hospital stay so he wouldn't have to waste a lot of time driving back and forth.
This time the hospital is only 15ish minutes away and I'm not bothered by the idea of not having Brian at my side every second I'm with our new baby until we head home.
Some people might STILL think I've over packed for this birth, but I have some comfort preferences and whatnot that I want to stick with. I'm not one to be a diva to the hospital staff or anything, but some stuff I'd rather use my own of and not theirs. (Hey it'll save them money, right?)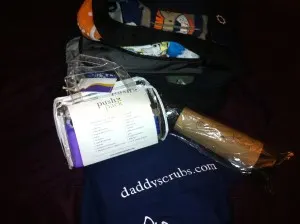 So here's what I have packed…
A Push Pack – This awesome little bag comes prepacked with lots of basic needs items, such as hygiene items. This way I don't have to worry about grabbing something last minute like my toothbrush. There are even a few snacks and comfy socks included. Time saver in my opinion! Bonus, they use only organic or natural skincare products. It all comes in a handy little bag too!
2 coming home outfits for baby boy – You know why if you checked out the voting results on his outfit!
A bunch of cloth diapers and a wetbag – I honestly lost count (or forgot) but it's probably about a day's worth… just to get started.
Flushable diaper liners – No meconium stains if I can help it!
Honest Company bath samples – I plan to give him his first bath myself with non-toxic products.
A few snack bars – for Brian or me
Pocket Nanny – To get in the routine of using it for my personal logging rather than the pen & paper method (It is NOT to schedule the baby, just to remind myself of when he was last changed or nursed)
Pretty Pushers labor gown – I really didn't like the hospital gown. It was uncomfortable. This gown seems better for monitor access, skin to skin upon birth, and initiating breast feeding. Plus, I want to look nice for my birth photos (kidding! Well.. sorta!)
DaddyScrubs – Daddy gets to wear something special!
2 coming home outfits for me – I am not sure what I'll fit into after giving birth. Last time I could wear my pre-pregnancy pants when I went home, but I gained a little more this time. So, one pair of pants are maternity and the other are pre-preggo pants. This also includes 2 shirts, a couple pairs of underwear and socks. I'm also going to need to take 2 pairs of shoes (one pair being sandals) since last time my feet swelled up SO BAD after delivery that I couldn't get my shoes on to go home.
My Brest Friend nursing pillow (not pictured)- I love this way more than the Boppy I had for Rissa.
My birth plan
Leading Lady nursing bras – Love love love their bras.
Then there's a (short) list on the fridge of last minute items to grab for me like my phone charger.. things that are hard to pack ahead of time but easy to over look and forget when preoccupied. I don't want to say "rushing out the door" because I'm hoping we don't get into that type of situation. I want to labor at home as long as I can!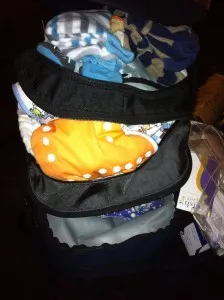 Can you believe I got all that stuff into the
Dadgear diaper bag backpack
? I'm impressed with how well everything fit in there and I was able to organize it. This was not the original intended use for this bag, but when I was looking for a bag to use it seemed the most promising. There are several zippered sections, it's very deep and really can hold a lot. I love how I can actually flip the bag open when the main section is all the way unzipped – it's like actually packing a suitcase! A couple items didn't fit inside but I can clip them to the side so they won't get left at home (nursing pillow and Push Pack). Pretty awesome, right?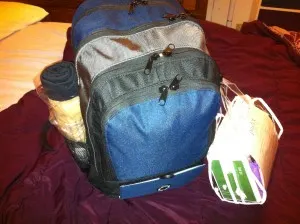 This bag will definitely come in handy since I can separate Rissa's stuff from the baby's stuff easily. Plus, it doesn't look girly so Brian can use it too. (I don't care if it is DADgear…. I've decided I want it!)
What did you pack in your hospital bag?
_______
Disclosure: I received a Push Pack, DaddyScrubs scrubs and Dadgear diaper bag backpack for review purposes. Some other items I've previously received for review such as the My Brest Friend nursing pillow. The rest of the items I bought myself. Regardless, I wouldn't use any of these items in my hospital labor bag if I didn't believe in them.