Over the course of my pregnancy we've tried to keep our toddler informed of what is going on. No matter what, I know there will still be an adjustment period for all of us. Perhaps even bouts of jealousy and regression. Hopefully the groundwork we've been laying will help make it as smooth as possible for our daughter. We try not to overwhelm her or focus only on the new baby coming, but we do talk to her about it.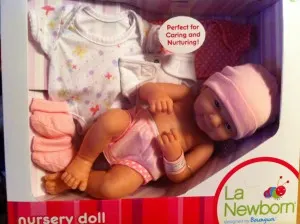 One thing I keep talking about is needing her to be mommy's big girl helper. Rissa loves to help and seems to like the prospect of helping with the new baby. She's been taking an interest in dolls more and more lately so I thought this La Newborn Layette doll by JC Toys would interest her. I was right! Rissa was so excited she started kissing the baby doll's head before I could finish freeing it from the packaging.
Although I am having a boy, this doll is a girl (though not anatomically correct in that regard). I love how Rissa is blind to society's notion that pink means girls because when I asked her what she wanted to name her new baby she said her brother's name! Eventually we settled on naming her doll Zoey.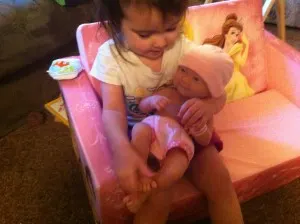 I am impressed with how lifelike this doll is – size, weight, texture… it's a pretty realistic newborn doll. When I cradled baby Zoey in my arm for the first time I got all misty eyed remembering how tiny Rissa was as a newborn. The eyes are striking and I love the gassy smile. Rissa is learning how to hold and rock her baby. We've made some progress, but she will still hold Zoey up by a foot or toss her to the side like she does with all her toys.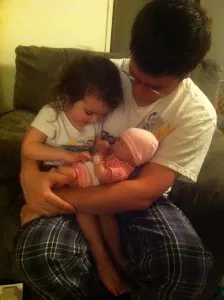 Let's hope she doesn't do the same with her brother…
Anyway, the texture and detail is pretty amazing. The legs are curled up in that awkward froggy way that can make dressing and changing a real newborn a challenge at times. The skin has wrinkles and even a protruding belly button stump. Rissa gets frustrated that she can't make Zoey sit so we remind her that little babies can't sit and need to be laid down on their backs.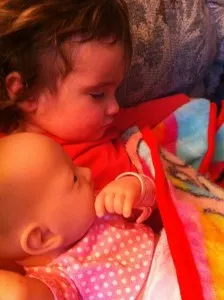 When Rissa is in little mommy mode she is incredibly sweet and adorable with her doll giving it hugs and kisses, checking its diaper, and sniffing its stinky toes (she always loved when I did that to her!). Sometimes baby Zoey joins my lap for story time and Rissa has fallen asleep snuggling her.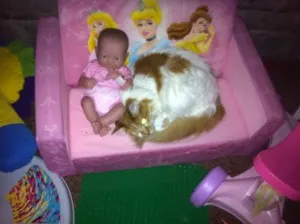 I know this doll won't make everything perfect when the baby comes, but I think it is offering Rissa a great way to practice her nurturing skills and get used to some basic newborn cares. Heck even the cats are warming up to Zoey!
Did you offer your child a doll in preparation of a new baby coming?
__________
Disclosure: We received a doll to review; no other compensation was received.