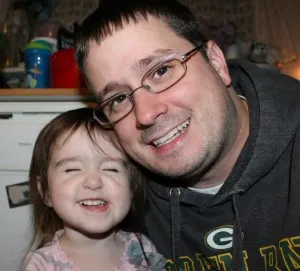 So, here I am. Dad. How do I feel about the next baby? Well, at the time of this writing, for some reason it's not yet fully sunk into my brain that another child is coming. I know it's coming and I feel that I am ready, but I don't think it will hit me completely until I see it with my own eyes. My brain does seem to work that way. I like to see or prove things before I comprehend them.
I remember a similar thing with Aerissa. I was definitely feeling more overwhelmed when she was on her way, though she was also our first child so there was a lot more to take in. I do remember the rush of feelings when I first saw her. It's like everything about her, this sort of mythical baby we always talked about, turned into a real thing all at once.
I'm also a bit excited that it's a boy. I'm honestly neutral on which gender my children are. I'll love them either way. It will be nice to have another man around with me. Aerissa is just starting to get involved with more "girly" things. Up until this point, it was very gender neutral. She played with all toys including trucks and tool benches, watched shows that all kids like, etc.
It will be nice to share my love of the things I enjoy doing. I hope my son (and Aerissa) will like the same geeky things I do. I hope they will enjoy expanding their minds, reading, asking questions (even the hard-to-answer ones), and playing video games (not too worried there.) I hope they become well-liked people with respect for others and get along with each other. Who knows, maybe they'll be another one in the mix at some point.
In a small, possibly selfish, way I am glad to be able to pass my name down through a son. I currently have three nephews that are handing it down themselves, but it's always nice as a guy to be able to do that, too.
However life works out, son, we'll take it day by day…and, for the future, stop hitting your sister.