The items featured from Tiny Love and B Kids were provided for review. This post contains affiliate links. Enjoy 10% off when you shop at B Kids with code D&B through the end of 2013!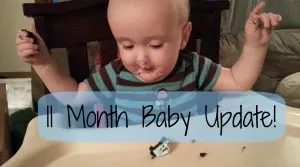 Xander is trying to keep up with his sister, but is definitely on his own timeline. He isn't talking yet, but has started walking a little bit. Rissa started walking the day she turned 11 months and hasn't slowed down since. She also started saying "kitty" around that time. (Supposedly I was walking and talking around 9 months.) I thought X would begin walking sooner because he began crawling and cruising early-ish.
Nope, he knows he can scurry across the floor quickly on hands and knees. Plus he can create an obstacle course for me trying to catch him by crawling under and around things. He stands and dances, taking a few steps from time-to-time. He doesn't really like having is hands held while walking. I'm not sure if he'll be a runner like Rissa was… I hope not. We'll see!
He LOVES to dance and this month's video shows him boppin' along. He isn't signing much or talking yet. He babbles and definitely has his own language though! I think he is trying to say "up." We have heard "mama/mom" sounds a few times as well as "dada." But I don't think he associates those words with us specifically yet.
It's really fun to watch him explore and play. He approaches free play with great enthusiasm whereas his sister needed to be entertained more directly. He likes opening and closing things, banging toys together, trying to make them dance, and filling/emptying containers. His all-time favorite activity is stealing flags and princesses off of Rissa's princess castle play set.
While he's definitely getting more grabby and wanting whatever she happens to have, I expect that from an 11 month old. However, the 3 year old is being like that a bit too. Toys she hasn't touched in months suddenly are desirable right-this-instant simply because he grabbed it. She's trying to learn the art of trading, but they aren't fair trades most of the time. He knows it too.
Most of the time they play quite well together, but I have to remind them several times daily to share and play nice. Rissa will occasionally pull the "it's mine!" routine, but we discuss sharing while playing together. We do offer her the option of playing in a different area of the house (such as the bedroom) if she doesn't want Xander taking her toys. Most of the time she decides to stay and offers him something. Other times I have to ask her to leave HIS toys alone…mostly when I catch her chewing on them. Or she's teasing him with a keep away game and he's upset. (If he's laughing and following her around I let them have fun.)
With the recent shared birthday party, they both have new toys that the other one covets and some that each of them hold dear. Xander received a stacking ring toy and a little music "television" box from B Kids. They are similar to classic toys from my babyhood, but not the same. Xander likes the music from but I get annoyed with it after awhile. It only plays one song: "It's a Small World." I'm okay then suddenly it's too much. He can't turn the knob to wind it on his own though Rissa will help sometimes. He doesn't watch the picture very long, but it moves along showing animals.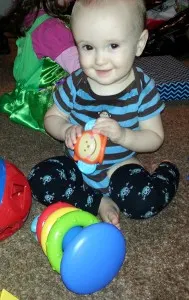 X liked the top of the stacker toy because it's a monkey head… which he tried to put on as a hat. He isn't interested in stacking the rings right now. Instead he likes to take them off every time I load it up. He just can't leave them on — it must be empty at all times. He also likes to put them on his arm like bracelets. It's adorable! Unfortunately the base keeps coming apart (the pieces don't stay interlocked very well).
We also received the (Amazon link) Magic Night mobile/nightlight from Tiny Love. We lovelovelove Tiny Love products. Xander is having a ball (literally!) with the Musical Stack & Ball Game Elephant toy we received last year. I think he's finally forgotten about his stinky giraffe. It's a clip and go toy that he used more as a lovee. The thing got stinky because of drool etc but he loved that thing until he was about 6ish months and it went "missing."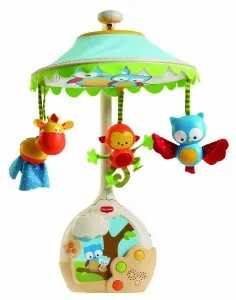 Anyway, Magic Night can be used on the crib for little babies and can convert along the way to be used as baby grows. It comes with a mobile arm for crib use. It can be a stand alone music and light box too. It projects images on the ceiling!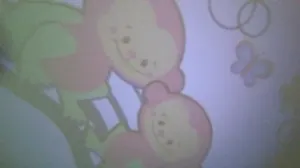 The canopy can be put on the box when the "blue arm thingy" is up. That switches from the animal pictures to a blue light. The canopy creates stars that project on the ceiling. It plays music and nature sounds. It apparently turns off on its own after awhile (yay!). Rissa has completely confiscated it. She likes the stars on while going to bed. In the morning she wakes everyone else up with the sounds. The animals that hang from the canopy come to life with her imagination. She loves playing with them! Xander just wants to knock it over and poke buttons.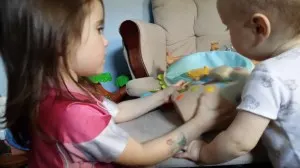 Overall, I think they are doing pretty well sharing and playing together considering their ages. I can totally see normal sibling conflicts in the near future. Hopefully he'll still be okay with playing with dolls and princesses a bit with his sister.
How do you encourage your kids to share?