I don't have a whole lot of AIO cloth diapers, but they sure can come in handy! No looking for inserts. No need to unstuff before tossing into the wetbag. I like having a few around. I recently had the opportunity to review a Kissaluvs Marvels All-in-One from Modern Cloth, a reusable diaper retailer.


Modern Cloth provides cloth diapers, accessories and resources to South Carolina's Lowcountry as well as online. They want to spread the word about modern cloth diapering – it's not like the old days of pins and plastic pants. There are still a lot of people that envision this when I tell them we are a cloth using family. Like many retailers of fluff, they do offer a trial package. This is a great way to try without making a large investment, but allows your to return them (in good condition) in a short period of time if they aren't working for your family. A unique service is Modern Cloth's newborn cloth diaper rental program. Instead of buying a newborn stash and later buying more, this allows you to use smaller sized diapers for 12 weeks at a lower cost. We would have loved this since Rissa was too small for most one-sized diapers when she was a newborn! (Granted we switched at the end of the newborn stage, but they were big on her then!)
So let's take a look at the Kissaluvs Marvels AIO….
Features:
One Size (7-35lbs)
AIO
Cross-over Snaps
Stay dry fleece lining
Polyester soaker
PUL outer
Soaker agitates out in washer but remains attached
Pocket opening to add additional absorbency
Elastic around legs and waist
Made in USA
Function:
I found this diaper to be quite absorbent. I admit I found the Rose Dust color not girlie enough. The colors this one comes in aren't anything overly cute. But! It kept the messes in. We used it for regular day use and naps. I could have stuffed it more for overnight but I didn't want it to get too bulky. It is nice to have that option though. Rissa's bottom stayed pretty dry even after a nap. We have not experienced any leaks.
Laundry:
This AIO is a bit different than when I think of a traditional AIO. The soaker comes out in the washer but it is sewn to one end. I know this diaper is advertised as "no stuffing needed" but I always have to stuff mine back in. Actually, mine usually turns completely inside out! It does dry faster than my other AIOs. I usually put this one on the line rather than in the dryer and it is dry either before or by the time everything in the dryer is done (usually after 1.5-2 cycles).
User Friendly:
Once turned back right side out and "stuffed" it's super easy to use. This would be a good diaper to use at daycare or leave with a caregiver. Dads can fit their hand in if the soaker needs to be tucked in. They could even add another insert since the tunnel is roomy enough.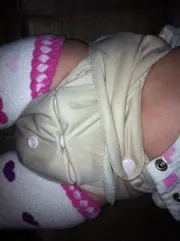 Fit:
I really like the crossover snaps. They help get a nice fit on my thin baby. Yes, she is 10 months old; 17.5lbs and I can cross over the snaps! The elastic is decent around her thighs. If I was to stuff it extra for overnight, I'm pretty sure there would be gaps around her thighs though. It's not too bulky. For an AIO I thought it was trim – more like a pocket diaper. I like that the soaker tucks in from the back. This keeps it from bunching a lot in the front and keeps a nice fluffy bottom roundness. Considering how tall and skinny my daughter is I'm not sure this would have been small and snug enough when she was a newborn. I think it will fit her well through to 35 pounds though!
Now that you know how it fits my tall and skinny baby girl, be sure to see how one of these fit an average sized baby and a bigger, chunkier baby!
Have you ever used one of these diapers? How has it worked for your baby?
______
FTC Disclosure: I received the product(s) mentioned above free of charge by the company or PR representative in order to conduct an honest review. I was not compensated in any other way for this post. The thoughts, experiences, and opinions included are entirely my own and may differ from that of others. I am not liable for any issues you may incur from use of said product(s). Images used are owned by me or provided with the company's permission unless otherwise sourced. See full disclosure information. If you have any questions you can contact me or leave a comment.