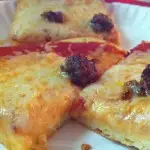 I loooove pizza. I'm even getting less picky about my toppings these days (and thus, expanding my horizons). I like 'em frozen, take 'n bake, fast food, parlor, and from scratch. I have preferences, sure. A great pizza starts with a great foundation. If the dough isn't very good, it throws the whole thing off! However,my idea of making homemade pizza was buying refrigerated dough…. I think I might have helped make pizza dough when I was younger since my mom used to make a lot of fabulous things from scratch, but I haven't done that recently. I'd like to make more of our meals from scratch, so I was very excited for the opportunity to work with King Arthur Flour and to make some pizza. REALLY homemade pizza!
I was sent the Perfect Pizza Blend, Pizza Dough Flavor, and Pizza Seasoning. While the recipe looked easy enough, I still was a bit nervous. I didn't want to mess it up! The Pizza Dough Flavor smells great, by the way. It really smells like a pizza parlor, so I knew it would be a great flavorful addition to the Perfect Pizza Blend.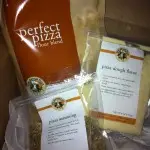 Let me back up a tell you a bit more about King Arthur Flour before I show you the pizza I made! King Arthur Flour is in Norwich, Vermont and is 100% employee owned and was named 2011's one of the Best Places to Work in Vermont. They are the oldest American flour company – they've been around for over 200 years! They are committed to quality and knowing how the wheat is grown for their flour. Rest assured that King Arthur Flour only offers naturally pure wheat – they do not add bleach, bromate, preservatives, or any other unnecessary chemicals. You can even get to know the farmers! For local residents, there are baking classes in Norwich. For those of us online, you can also get step-by-step instructions through their Baking Banter blog and access over 2,000 free recipes.
Whether you are looking to bake pizza dough, bread, muffins, or cookies – they have a selection of flours and mixes you'll want to check out! And if you or a loved one is on a special diet – no worries! They also offer kosher, organic and gluten-free options!
So, as you can see, we are working with quality ingredients here!
Here is the recipe on the back of the bag for the Perfect Pizza Blend:
3 1/4 cups Perfect Pizza Flour Blend
1 tablespoon Pizza Dough Flavor
(optional)
1 1/4 teaspoons salt
2 tablespoons olive oil
1 1/4 cups warm water
2 teaspoons instant yeast (active yeast)

Yield: Dough for two thin-crust (1/4″ to 3/8″) 14-inch pizzas; OR two moderate-crust (1/2″) 12-inch pizzas;
OR one thick-crust (3/4″ to 1″)14-inch pizza
Step One:
I combined all the ingredients and mixed them together by hand. It was kind of fun to get my hands into the dough. After mixing until no clumps were left, I let the dough sit in the bowl. It is suggested to let it rise for an hour for better flavor.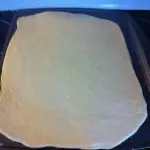 Step Two:
Put the dough on a lightly floured surface. Divide it as needed or roll it out. I didn't pay attention to the yield and rolled out one big rectangular crust. I liked the thickness from it though. (Hey, I warned you that I'm a bit of a novice here!) Put it on a greased pan and preheat the oven to 425°F.
It says to allow the dough to rise while preheating. I'm honestly not sure if that meant letting the dough sit out or to put the dough IN the oven while preheating. I put the dough IN the oven…
Step Three:
Work on preparing toppings, if necessary. I separated mild Italian sausage and cooked it in a pan on the stove.
Step Four:
Prick the dough and brush with olive oil. Bake for 6 to 8 minutes, until set and beginning to brown. (When I got to this step, that is when I figured the dough wasn't supposed to go in the oven yet! Oops!)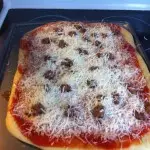 Step Five:
Top as desired! I spooned on tomato sauce and sprinkled on the Pizza Seasoning. I covered it with shredded mozzarella cheese, placed the sausage pieces, then covered it with more cheese. I let it bake for about another 8 minutes, then served it up!
It turned out yummy! The crust had the right amount of crispiness and chewiness. It also reheat well for leftovers. My sauce was a little bland, so I need to add more seasoning to it next time!
Final thoughts: Whether you are a seasoned baker or a wannabe like me – you too can create a delicious pizza crust! Seriously, if I was able to pull it off you know this stuff is good.
You can purchase these great products and various other mixes at King Arthur Flour. Don't forget to follow them on Facebook and Twitter too.


_______
** FTC Disclosure: I received the product(s) mentioned above free of charge by the company or PR representative in order to conduct an honest review. I was not compensated in any other way for this post. The thoughts, experiences, and opinions included are entirely my own and may differ from that of others. I am not liable for any issues you may incur from use of said product(s). Images used are owned by me or provided with the company's permission unless otherwise sourced. See full disclosure information. If you have any questions you can contact me or leave a comment.