Just a few weeks ago, Rissa started crawling forward. Now, this little girl can zoom around the living room like nobody's business! She's fast! Plus she's pulling herself up on anything a few inches off the ground – mostly the couch – but anything she can use to stand she will!
Once she's up, she cruises along the couches. She'll lean against objects so she can clap or hold a toy. She does get brave and let go a bit. I think her first steps may come any day now. My parents tell me that I didn't crawl much and started walking at about 9 months…. She just turned 9 months…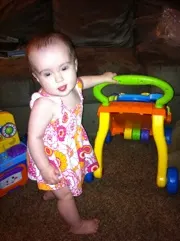 And to think it felt like she was crawling backwards for a long time but it was a little blip of time in this first year.
When did you and/or your baby start walking?