We received HALO SleepSacks to review and share information with you.
One of my must haves for itty bitty babies is a HALO SleepSack. We bought some when Rissa was born and a swaddle one for Xander. Having both of my kids before Wisconsin winter is in full force means lots of cold nights. I remember being worried that Rissa was too hot or too cold all the time.
The advice to dress them an extra layer than you would wear in the cold (and one less when it is hot)? Yeah, that made me nervous. Finally, I settled into figuring if I was comfortable, she probably was too. (Though I would feel her hands and feet from time to time as a temperature check.)
Temperature is important to reduce the risk of SIDS and should be around 68-72 degrees Fahrenheit. Don't dress them too warmly at night. Loose blankets are also a safety risk, which is why we prefer to use a wearable blanket. Even with Rissa turning 3 years old soon, I want her to be warm enough at night. She almost always kicks her blanket off at some point. She likes to fall asleep with it on, but it never stays there through the night.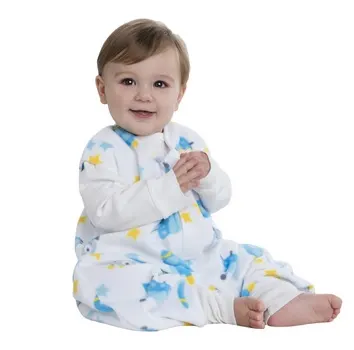 I was very happy to work with HALO SleepSacks to receive new ones for the kids. They've grown out of the ones we've purchased. They have new adorable designs for the micro-fleece sleepsacks, such as this robot one. The new designs are available at Target and Amazon (affiliate link).
So what do you do when the kids become mobile? Can they still use sleepsacks? You bet they can! They have sizes for toddlers and preschoolers that include leg holes at the bottom. It's easy to pop their feet out to walk or tuck them inside to be warm and cozy. I'd love to show you pictures of them wearing theirs, but trying to get them to pose just before bedtime or in the morning has not worked out very well. Rissa was VERY excited about receiving the purple princess one she picked out on the website though!
My kids are skinny minis so Rissa actually fits into the one Xander received. His Early Walker SleepSack is a little too big for him (even though he falls within the weight range for the size). I love that they make it easy to keep them warm at night safely without the use of blankets. I also love that it is easy to change diapers without completely removing the sleepsack.
During the month of October, HALO will donate $1 to SIDS Awareness for every new Facebook "like".
HALO Innovation's SleepSack® wearable blankets have become the standard for hospital nurseries and parents alike. In fact, 1,000 hospital nurseries use the HALO SleepSack Swaddle instead of blankets through the
HALO Safer Way to Sleep Initiative
. HALO Innovations also offers free Safe Sleep Practices kits to childbirth educators to help further the cause of SIDS prevention.