I participated in a campaign on behalf of Mom Central Consulting for Stride Rite. I received products to facilitate my review and thank me for my participation.
When I was growing up, Halloween was a very exciting time. It meant my mom would help me dress up and make up my face (like a big girl). It meant fun, silly and spooky activities. It meant trick-or-treating in the dark on Halloween night.
And living in Wisconsin it often meant wearing your costume over the top of a winter jacket or even snow pants.
My favorite costume when I was preschool-age was being a princess. I think I was a princess a couple years in a row (with the same dress, but I didn't care). We'd go around the neighborhood, then we'd go home and dump my candy on the floor. Every piece of my sweet loot had to be looked over, inspected for holes, tears…anything suspicious.
As I grew older my role changed from trick-or-treater to candy-hander-outer. But I still enjoyed dressing up.
Last year was the first year we took Rissa out for trick-or treating. She seemed to have fun, but hadn't fully embraced it. This year she began talking it up more than a month in advance. She talked about costumes, pumpkin picking, candy… and, of course, her birthday.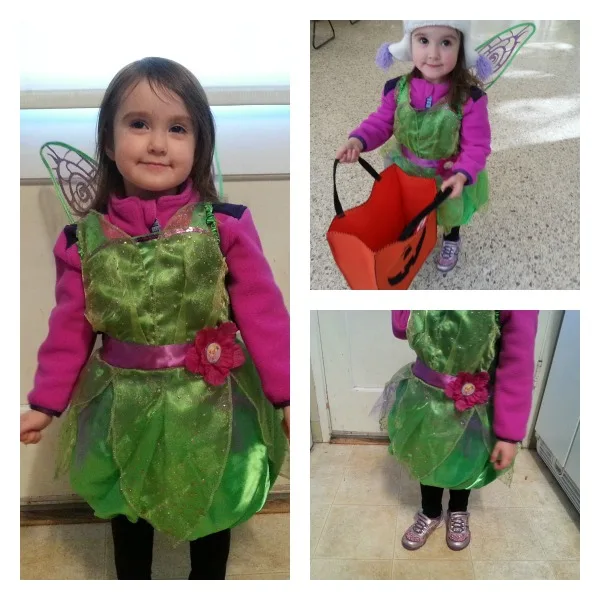 Once she finally decided on being a fairy we bought her Tinker Bell costume. she asked to wear it repeatedly, but I reserved it until we could go trick-or-treating. In our area that is often the weekend before the 31st (if it falls on a weekday).
Not too long ago she needed new shoes as we headed toward cooler weather. She picked out these adorable Sugar & Spice purple shoes with pink and green light technology from Stride Rite. They are not only great for her day-to-day use, but they matched her costume well. And the lights helped keep her visible as the sun went down (though we didn't let her stray too far ahead).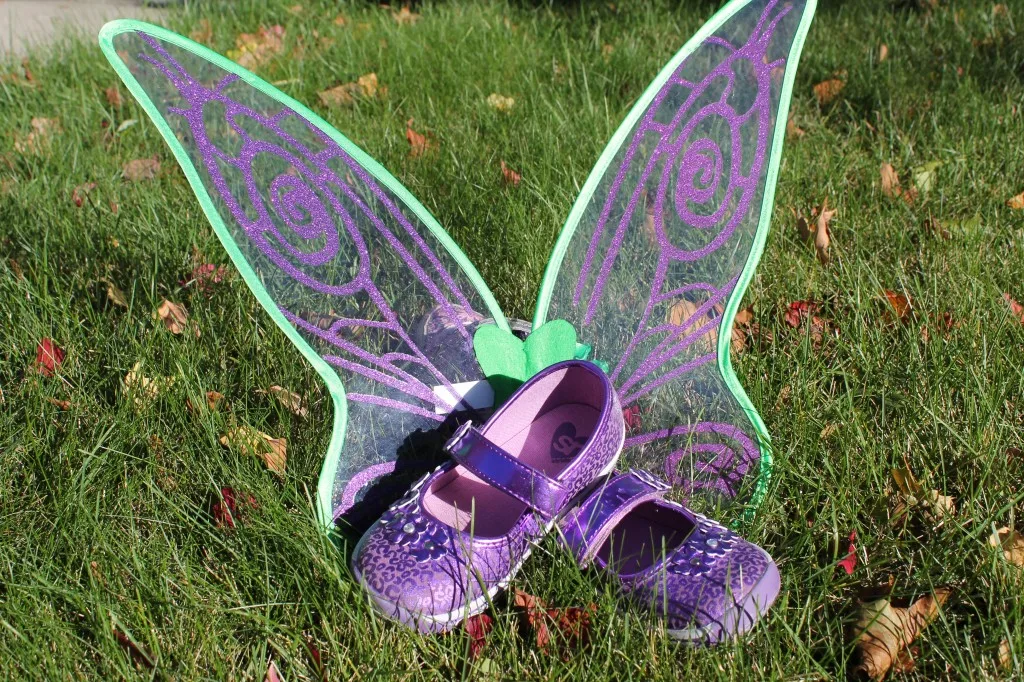 Silly me though, I bought those shoes and then received an identical pair to review! We also received a pair of purpler sandals to review that Rissa loved as soon as she opened the box. She had them on before I could remove the cardboard inserts! Those also looked great with her costume, so she wore those when we visited Grandma's house for a second day of trick-or-treating. (Lucky girl, am I right?)
Rissa was adorable as she walked up to each house, holding out her bag. Sometimes she'd be offered her choice of treats. I heard her say she loves chocolate like mommy. In her excitement she would forget to say "trick or treat" and "thank you" each time, though most of the time she did thank them. You couldn't be upset about a loss of manners with the way she smiled so big, and was obviously super excited as she ran back to us exclaiming, "I did it!"
The best was when she would say "trick or thank you!"
As for Xander? Well, he was dressed up as a pirate, but we didn't collect any candy for him. He was just along for the ride. (Literally, since I wore him.)