When I was little, I thought it would be so cool to meet Disney character cast members. For a little while I even imagined being one some day. With my dark hair and fair skin, I always thought I'd make a good Snow White. Since I never got to go to any Disney parks when I was little, my only experience with their cast members was limited to what I saw on television. They always looked so happy!
I finally made it to Walt Disney World after I graduated from college, thanks to my husband's family taking us all there. It wasn't as easy to get close to some of the characters as I thought it would be… mostly because I felt a little silly waiting in line and taking up time a child could be enjoying. Hubby (well, boyfriend at the time) and I did get our picture taken with Chip 'n Dale though.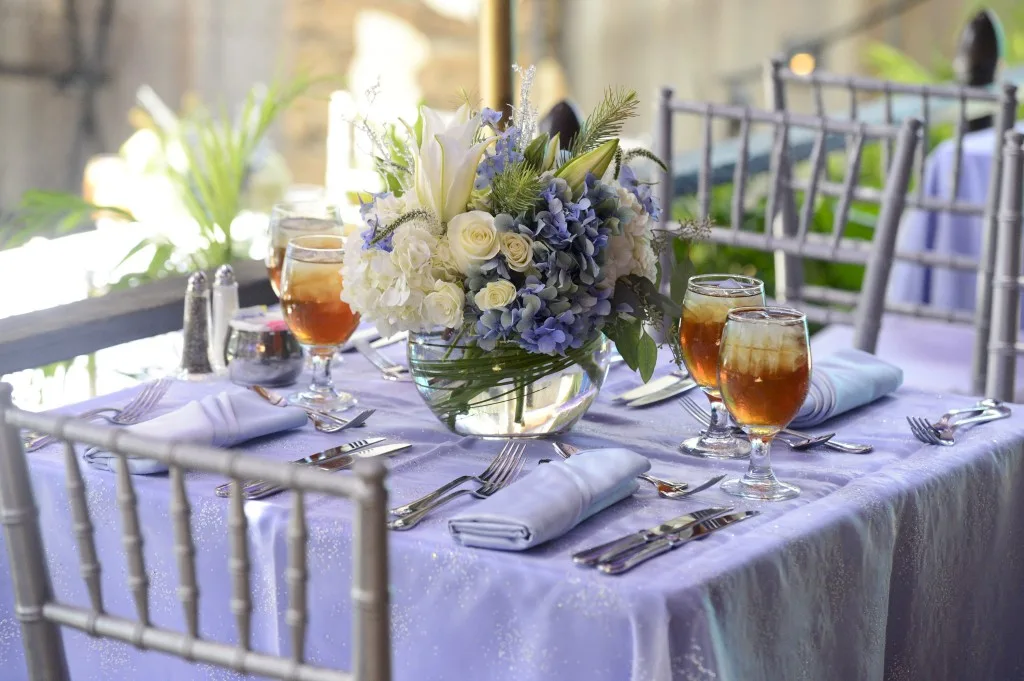 While I was at Disneyland in August (yay, I've now been to each park once!), I received a really fun and exclusive opportunity. We had a private lunch in Aladdin's Oasis and got to meet Tinker Bell and the newest cast member, Periwinkle! At the time we met her, she wasn't out in the parks yet. She didn't debut in the parks alongside Tinker Bell until September. Aladdin's Oasis is now reserved for private parties and events only, was decorated beautifully and the food was delicious!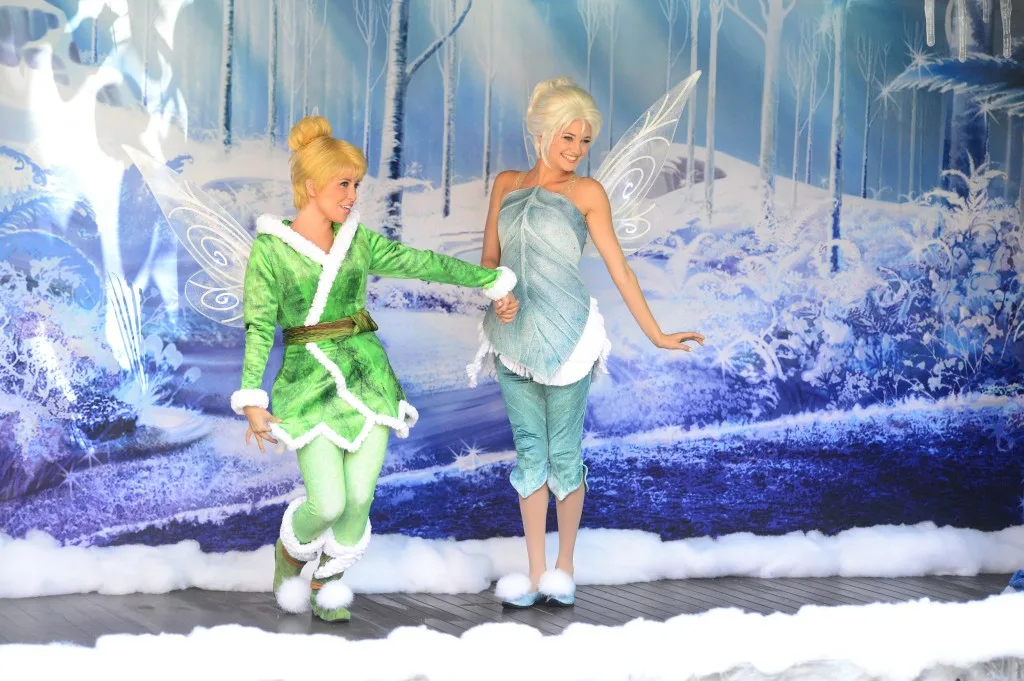 So who is Periwinkle? Why, she's Tinker Bell's sister! She's a brand new fairy introduced to fans in the upcoming release of Secret of the Wings on Bluray/DVD starting October 23rd. She's a winter fairy and she's absolutely adorable. We met Tink and Peri before screening the movie, so it was interesting to compare their look and mannerisms afterward with the movie.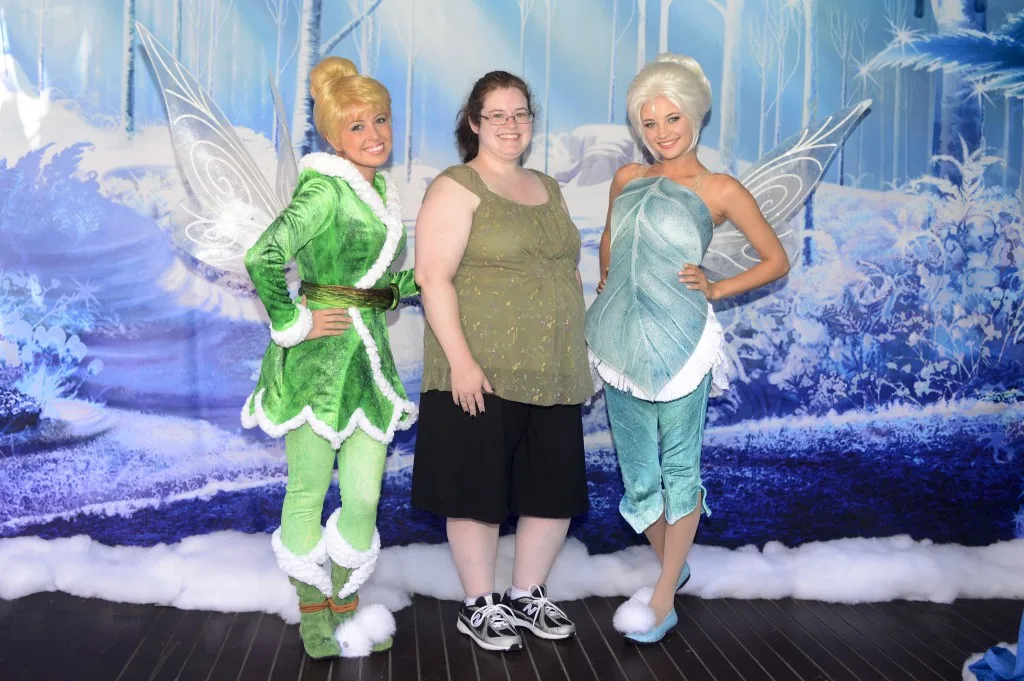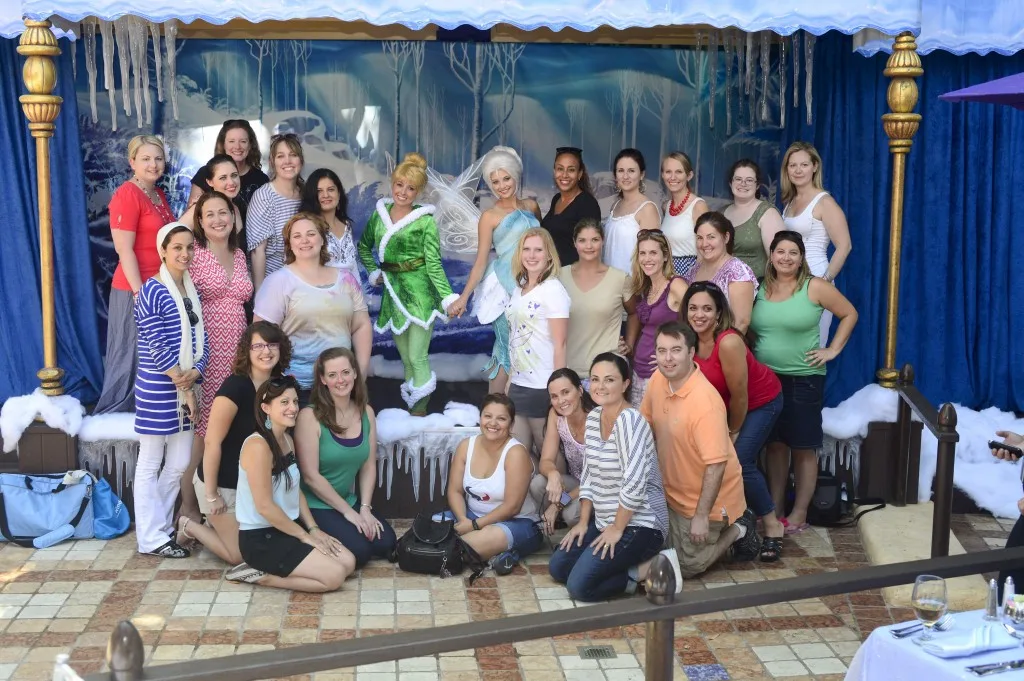 I can totally see why these ladies are the real life versions of their animated characters. They represent them so well! Next time you are headed to one of the Disney parks, you'll want to stop by and say hello to them and see what their wings do when they get close to each other.
_______
Disclosure: I attended an expenses paid media trip courtesy of Disney and am sharing my experiences from my trip. I don't care that I'm in my thirties, it was awesome to meet the Disney Fairies! All the images are owned and used with permission by Disney.