Girls like to play video games too, but don't necessarily like the same kinds of games boys do. At our house, we embrace everyone's different gamingn preferences. Knowing how beloved the princesses are, Disney has released an interactive video game that lets fans be part of their worlds and we received a copy of this game to review. We tested it out on the Nintendo Wii, but it is also available for the 3DS and PC/Mac.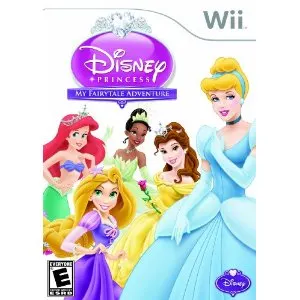 This post contains affiliate links.
In Disney Princess: My Fairytale Adventure, you are an apprentice to the Fairy Godmother and apparently a very new one at that! While practicing some magic spells in the garden, you turn the friendly sprites into naughty imps. While chasing them around the Enchanted Garden and through the castle, the imps find the portals to the worlds of each Disney princess: Ariel, Belle, Cinderella, Rapunzel and Tiana. Of course, you must follow the imps into each of the princess kingdoms to keep them from messing things up!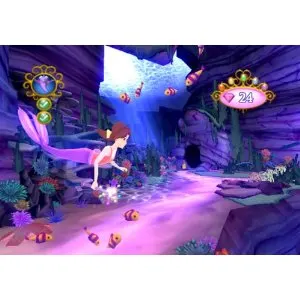 While in each world, you get to interact with several familiar Disney characters who help guide you through missions. You must find the imps and change them back into sprites with your magic wand. There are also mini puzzle games for additional fun and skill challenges. You can also customize your character's looks, buy dresses, decorate her room, plant seeds in the garden and a few other fun things that don't affect the progress of the game.
The game is rated E for Everyone so it's hard for me to say what age is the best for this game. It really depends on your child's gaming abilities, interest in puzzles, and love of the Disney princesses. My daughter is too young to work the controls for this game on her own, but she likes to watch us play it. She is only 2 years old, though I would think most 4 or 5 year olds would be capable of playing on their own.
The learning curve is low and quick to figure out through the little tutorial your character goes through at the beginning of the game. Turning the imps into sprites does not require any aiming (at least in the Wii version – that's the only version we played), so that should cut down on frustration levels. As long as you are near them and hitting the right button, it will get them for you! There is also a helpful glowing path to follow so you don't get lost easily. I love that it's relatively easy for kids, but it's not too challenging for adults (at least those of us who do a lot of gaming). It's still cute and fun though!
Which Disney princess world would you visit first? Rissa wanted to visit Ariel right away!
_____
Disclosure: We received this video game for review purposes.