I'm going to admit to you right now that the details of how Brian and I connected are starting to get fuzzy. It saddens me, but man! That was over 10 years ago! We are coming up on our 7th wedding anniversary and had been together for 4 years before that. Good thing I'm making record of this now, huh?
Previously, I shared how Brian and I met online. We talked for several months and gave each other relationship advice before meeting "just as friends." I left off after our first non-date date.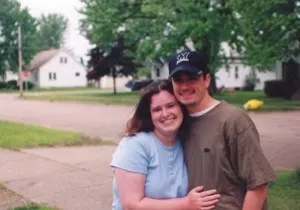 We continued to talk online and get together for fun hangout dates, which we took turns organizing. One day, before we got too serious, really sticks out in my mind. When leaving my college apartment to go to work I discovered I had a flat tire.
Son of a…. I took out my jack and tried to get my tire off. I couldn't get the lug nuts to budge.
I kicked it. I swore at it. Neither helped. Other students looked at me but kept walking. I decided to flag down my RA (we still had resident assistants to keep an eye on our apartment building) and ask for his help.
Dude took one wimpy try and gave up! I put more muscle into it than he did. Defeated I went back inside to call into work. As I did that I sat down at my desk and saw Brian was online. He was hanging out in the student union at UWM waiting for his next class to start. I decided to whine about my plight.
Brian offered to come change my tire.
I was surprised – he'd skip class and drive 30-45 minutes just to come help me? (When I later told my dad he said Brian was a keeper!)
So, my modern knight in shining armor (or cute geek with a tire iron) came and changed my tire with no problem. He didn't think it was a big deal, but I did. I mean he did go out of his way for me. Since I was free the rest of the night I asked him to a movie. And I still remember what it was: Showtime with Eddie Murphy.
Well, we are almost to where we became official boyfriend-girlfriend, but this post will get way too long if I don't stop now.
Before I go here are more reasons I love my husband:
19. He will go out of his way to help me. The tire was only the beginning.
20. He listens to me vent without trying to "fix" everything.
21. The way he rubs and pats my knee when he is driving.
22. The way he banters with me online, in text, and in person.
23. How safe and secure he makes me feel.