So we've covered how we met online and went on our awesome first non-date date where a cop ran us for warrants. We survived that together and continued talking, then Brian drove way out of his way to come change my tire, but we weren't official just yet. So how did we finally hook up?
I knew there was something special about Brian. At the time I couldn't really tell what it was, but I think my heart knew. The more we talked and hung out together, the more I wanted him to be mine. I thought about him constantly and looked forward to the next time I'd see or talk with him. During this time my ex-boyfriend Chris was trying to win me back. (He even got a dog thinking that would work. Poor pooch.)
The thing was… we had kind of set things up on a friends-only basis. I was talking with a few "other guys" and he was talking with another girl. A girl he was planning to take a road trip to meet in the summer.
I consulted a guy friend about what to do. I didn't want to risk losing him, but I had to do something. We came up with the perfect plan… a plan that resembled a cheesy teen movie plot. I'd propose a trial relationship. Date me until his trip. He could go if he wanted and keep me or leave me – but I wanted a chance to prove what an awesome girlfriend I could be.
(Seriously, how do we think we are mature adults in our early 20s?)
I gave him the offer he couldn't refuse and in mid-April we became inseparable. We literally spent days together and did what we could to plan the most time together. It wasn't unusual for me to drive out to his place just about when he would be home from work so little time was wasted.
We went to baseball games together, movies, family gatherings…. I met immediate and extended family as well as his friends and he met mine. We would stay up late talking and watching movies until he was too tired to safely drive home.
As summer approached, I got anxious but he never went on that trip. Good thing he chose me because I was totally falling for him… and we hadn't even kissed yet.
More reasons I love my husband:
24. I need him because I love him.
25. He supports my ideas and project ventures even if they don't all come to fruition.
26. He gets me in a way that no one else can or ever will.
27. He backs me up when our daughter goes to him hoping for a different answer than mommy's no!
28. He finds humor in almost everything.
29. He pre-screens television shows before having me watch them so he rarely has me watch something I don't end up liking.
30. He knows my "usual" orders at most restaurants we frequent (and my desserts too).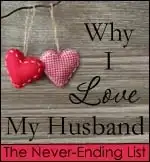 Also linking up with Wedded Wednesday.