A popular holiday gift is a new stuffed animal! Kids of all ages love plush (even if those teens that think they are too cool…). Heck, I still like receiving plush animals. I found a really cool place to shop for stuffed animals called This Place is a Zoo. They don't carry just any old thing, they feature an array of realistic looking plush. They also specialize in exotic and JUMBO animals!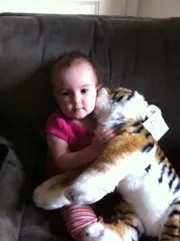 When I was little, I had this HUGE frog that I loved. It was floppy and I could crawl all over it. I would love to get my daughter one of the jumbo bears or cats, but I have no clue where we would put it. She's definitely started to take a liking to cuddly toys lately, so I wanted to get her something a little different, but I knew she'd love.
I picked out this 18″ Bengal Tiger for her. I wasn't able to get a decent picture of it straight out of the box because as soon as she saw him, she was all over him! I could barely get the tags off without too much trouble erupting.
She hugged him, petted him, poked at his face..all the while saying "kitty. kitty." Right now he's about her size, so that is kind of fun. She likes to lay her head on him randomly, but it is just the cutest thing.
It was, honestly, very hard to choose one because so many different animals called to me, and I know my daughter would enjoy just about any of them. This tiger has stood up to a few weeks of hugging and tugging by a toddler, which indicates it is of good quality.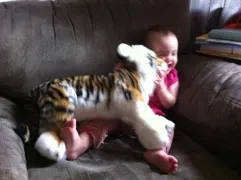 These plush are really a great gift idea, especially the BIG floppy ones. I used to work in a specialty gift shop that had a few jumbo bears in stock year round, especially for Valentine's Day. They were used in a few proposals – men would come in and buy the big, big animals and have us tie an engagement ring around the neck.
Just picture one of these sitting under (or near) the Christmas tree with a huge bow wrapped around it's head!
If you are thinking about one of these for Christmas,
order before December 15th with the code
TalesFromtheNursery
for 10% off at ThisPlaceisaZoo.com
______
FTC Disclosure: I received the product(s) mentioned above free of charge by the company or PR representative in order to conduct an honest review. I was not compensated in any other way for this post. The thoughts, experiences, and opinions included are entirely my own and may differ from that of others. I am not liable for any issues you may incur from use of said product(s). Images used are owned by me or provided with the company's permission unless otherwise sourced. See full disclosure information. If you have any questions you can contact me or leave a comment.