The 12 Days of Gifts Galore giveaway event is going on now through December 6th! Be sure to enter to win this great prize from our event sponsor!
PlasmaCar by PlaSmart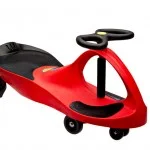 PlaSmart prides themselves on creating innovative toys that are simple yet engaging without the use of trending features. No lights or fancy sounds from a mini computer, they don't even require batteries. They've won toy awards and have been named as a top toy pick by several sources this year such as Parenting Magazine and Babble.
I was intrigued by the PlasmaCar and how it could work well without pedals or batteries. I was even more curious by the higher weight limits (up to 220 lbs on a smooth surface), which meant my husband and I would be able to plat with it too! Rissa is too young yet (ages 3+) to actually play with it. Her nephews don't know about it yet!
I let my husband feel useful and had him assemble it. He said that overall it was pretty easy to do once he figured out how to properly use the hex tool with a screw driver. Some areas were harder to get at than others, but that is fairly common. He was a sweetheart and documented his progress with unboxing and putting it together. I felt like I was rushing him because I wanted to make sure we could use it outside before we got snow. If we had a bigger house (or a nicer basement area) it could be ridden inside but we just don't have that kind of room!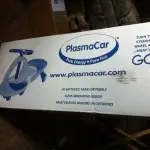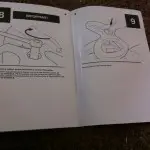 Rissa had to check out what her daddy put together. She had fun sitting on it and it made for a great photo opp, of course. The next part was entertaining as I coaxed Brian to help me test it outside. I wondered what our neighbors might think, but figured they'd be more curious than anything else.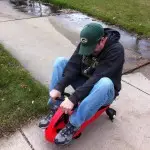 It's pretty fun, I just wish I could make it go faster! I definitely think kids could get it to go faster. Once sitting on it, I just moved the steering wheel back and forth to make it go! It is meant to be ridden on flat surfaces only, no hills. The raised slabs in the sidewalk made it stop. Once we get a playroom area set up in the basement, this will be very fun year round! There aren't any brakes really, but if you stop moving the steering wheel it will slow down. You can see by the wheels that the sidewalk scuffed them up already from us riding back and forth!
You can see me in action (go ahead and laugh!) though Rissa got in my path so I couldn't go as fast!
PlasmaCar ARV$55; you can search for a local retailer or order through Amazon
Connect with PlaSmart & PlasmaCar: www.facebook.com/plasmart and www.twitter.com/plasmart.
______
FTC Disclosure: I received the product(s) mentioned above free of charge by the company or PR representative in order to conduct an honest review. I was not compensated in any other way for this post. The thoughts, experiences, and opinions included are entirely my own and may differ from that of others. I am not liable for any issues you may incur from use of said product(s). Images used are owned by me or provided with the company's permission unless otherwise sourced. See fulldisclosure information. If you have any questions you can contact me or leave a comment.