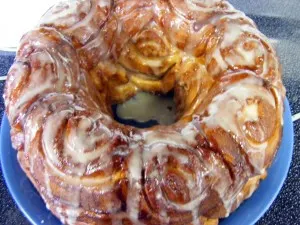 Sunday mornings are our family time together, we always have a 'big breakfast' which is just about anything… as long as it includes bacon. Lately we have been having cakes. Breakfast cakes, or rather foods that could be served with breakfast turned into a cake or baked in a cake pan. Which is what I did this Sunday just gone past.
I got up an hour or so earlier than everyone else to get my bread machine going with a cinnamon roll recipe.
1 cup warm water
2 tbsp butter/margarine
3/4 tsp salt
3 cups flour
2 1/2 tsp active dry yeast
1/4 cup sugar
1 egg
Put butter or margarine in the warm water while you put everything else, excluding the yeast into your bread machine. Add water and butter and then yeast. Set to the dough setting.
Knead all air pockets out and then roll flat into a rectangle.
Mix together the following and then spread over dough.
6 tbsp softened butter/margarine
1 1/2 tsp cinnamon
2/3 cup sugar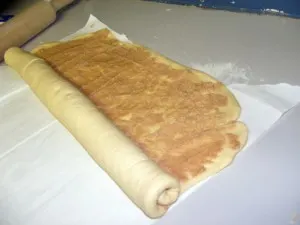 Roll tightly, slice and place into your bundt pan.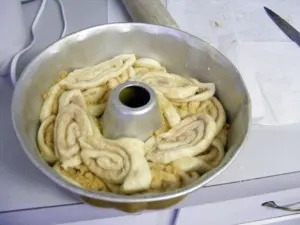 Bake at 375, for 35 minutes. It should be light to medium brown in colour. Not dark brown and slightly burnt. This is the result of forgetting to set the timer.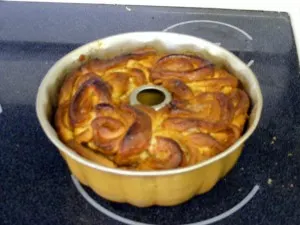 1/2 cup powdered sugar
3/4 tbsp melted butter/margarine
3/4 tbsp water
Splash of vanilla
Drizzle some icing over it and serve warm. Yummy. We eat it all in a day, and usually end up with tummy aches from eating too much.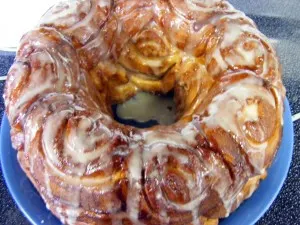 This could be made using any cinnamon roll recipe… I just like the easy work and clean up of using the bread machine as well and the lightness of the dough. Enjoy!