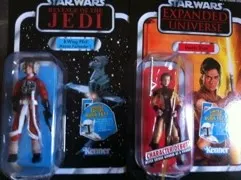 Some toys aren't just for kids! This year Hasbro is offering a line of action figures that make perfect stocking stuffers for collectors and kids alike. We received two Star Wars figures (one from the Star Wars: Knights of the Old Republic video game) complete with vintage packaging. While the packaging won't increase their unopened value to be equal to that of figures from back in the day, a fan collector is sure to appreciate this!
Kids who like action figures should have fun with these as well but may not be as familiar with the movies as we are! I tend to keep collector figures boxed (I used to have football and hockey ones) so I just couldn't bring myself to open these up. Instead, I think I'll display them next to my small Star Wars ornaments box set…
______
FTC Disclosure: I received the product(s) mentioned above free of charge by the company or PR representative in order to conduct an honest review. I was not compensated in any other way for this post. The thoughts, experiences, and opinions included are entirely my own and may differ from that of others. I am not liable for any issues you may incur from use of said product(s). Images used are owned by me or provided with the company's permission unless otherwise sourced. See full disclosure information. If you have any questions you can contact me or leave a comment.