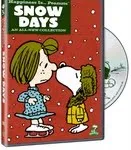 Synopsis:
Everyone's favorite Peanuts gang is at it again in Happiness is… Peanuts: Snow Days. Follow Snoopy and gang in an episode from The Charlie Brown and Snoopy Show and the newly re-mastered classic She's a Good Skate, Charlie Brown TV special all on one DVD!
Released 10/18/11

My Review:
Charlie Brown and the rest of the Peanuts are part of my classic holiday show watching. While the animation is old school, the characters continue to be ones people can relate too. My husband also pointed out that since the characters weren't drawn with a particular style of dress etc that would date them. The episode from The Charlie Brown and Snoopy Show (#18) consists of a few shorts. The first is The Play where the gang blames Charlie for all their errors with the Christmas pageant. Another short was a familiar one about Valentine's Day. Poor Charlie and all his angst over the little red headed girl.
Peanuts are good, clean fun and appropriate for all ages. They contain lessons about life: working hard, continuing crap work. Make them a tradition in your home if you haven't already! I just wish the Christmas special was included too!
Own it on DVD – You can purchase it at the WB online store.