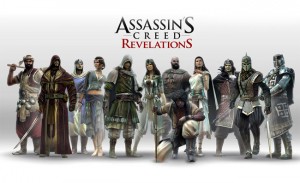 I've been a fan of the Assassin's Creed series of games since the first one was announced back in 2006. I've always enjoyed the stealth-style, hiding-in-the-shadows type games. Assassin's Creed: Revelations is a continuation of the story of the 2nd assassin in the series, Ezio Auditore da Firenze. It is in the 3rd game in his series.
AC: Revelations features all three of the series' major characters that have been in the game previously: Desmond Miles, Altaïr ibn La-Ahad and Ezio Auditore da Firenze. You play as Ezio in the city of Constantinople (they should write a song about that name) in 1511 AD during the rise of the Ottoman Empire. The game also continues Desmond's story in the present day (2012), following the events of the previous game, Assassin's Creed: Brotherhood, where he is trapped in a comatose state. Desmond must find a key memory that links him with Altaïr and Ezio to reintegrate his splintered subconscious and awaken from his coma. While in his memory, Ezio meets a variety of historical characters, including Prince Suleiman, a man who will one day become one of the Ottoman Empire's greatest Sultans.
I, unfortunately, didn't get to finish the previous game, Assassin's Creed: Brotherhood, due to a few things such as the birth of Aerissa and the barrage of other games. Playing a game like Assassin's Creed requires you to use all of your senses, especially sight and sound, and it was tough to do with a one-year-old randomly hitting your controller buttons. Being aware of your surroundings and listening for slight cues is extremely important, especially in multiplayer, which I will get to shortly.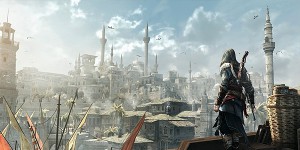 Even though the game engine is getting old (going on 6 years now), it still is one of the most beautiful games. Ubisoft did an amazing job, as always, bringing a 14th-century city like Constantinople to life. I still get goosebumps when climbing to the top of the "viewpoint" towers and looking across the whole city. All of the best items have been carried over to this game. You can still build your Assassin's Guild, renovate shops, and make money to buy new items. Added in this game are, among others, the hook blade and the ability to build and use small bombs. The hook blade now allows you to slide down zip lines and also climb faster and quickly incapacitate guards. The bombs have many uses and you have many different types you can create. I've only been able to get about 25% into the main game, but it's been a wild ride so far. I won't ruin anything for you.
I didn't get to try multiplayer in Brotherhood, so I don't know exactly how it compares, but I do know that it's like no other multiplayer you may be used to. If you're used to Call of Duty or Halo, throw what you learned out the window. Most of the multiplayer modes in here are about blending in, taking your time, and surprising your target. If you like to run around like a wild gorilla and climb everything, don't expect to live long. Like I mentioned before, quick reflexes and good eyes are important in these modes. A lot of time, you only have a split-second to defend yourself before your pursuer sticks a polearm in your neck. I'd recommend reading up on the different modes before playing, otherwise you need to be like me and die a lot before you figure it out. The only problem I had with multiplayer was the Ubisoft servers disconnected me twice during matches, the first time it was down for a good 15-20 minutes which didn't allow me to play it at all.
MY VERDICT: If you're an Assassin's Creed veteran, you'll definitely want to play this one like the others. There are always improvements made and bugs fixed. If you're new to the series, you'll enjoy it also since it shows you the ropes, but I'd recommend at least starting with Assassin's Creed: Brotherhood first, or even better, Assassin's Creed II. The original Assassin's Creed is not required since they've made a lot of progress since that game in 2006, but it will help you fill in parts of the story that may confuse you.
Where to buy: Check out Amazon's deals!
___________
Thank you to Ubisoft for sponsoring this blog post. Please click here to learn more about Ubisoft. I was selected for this sponsorship by the Clever Girls Collective. All opinions are my own.