Do you have a little fashionista who wants to get her nails done with you, but you're concerned about using your nail polish? I recently received a few bottles of Piggy Paint nail polish to try out. Our package arrived with perfect timing for a mommy-daughter date!
I'm still getting the hang of mothering two littles and how to give them each the one on one time they deserve. Going out of town for the Blissdom conference with Xander provided quality mommy-son time and daddy-daughter time. Around bedtime we have one on one time with each child, even if it is only for 5-10 minutes. Still, I wanted to do something really special with Rissa after I got back from my trip.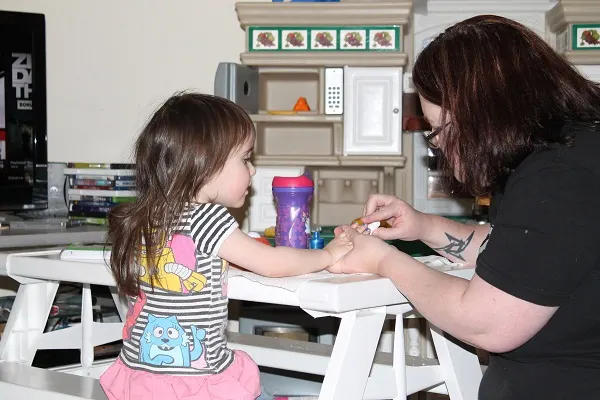 My sweet daughter's interest in playing dress up and all things girly has progressively increased over the past few months. She still puts her fingers in her mouth a lot and has started biting her nails. I don't want her to develop that habit (I know how bad it can be!) and thought painting her nails might be a deterrent. Though, I was concerned about the nail polish being in her mouth, chipping off.
I'd heard of Piggy Paint before, but wasn't sure if it was appropriate for preschoolers and toddlers. Their tagline, Natural as mud, sounded like a safer option. Unlike the polishes in my beauty case, Piggy Paint is non-toxic and water based. No harsh chemicals going on her little fingers or into her mouth.
And the best part? They have lots of fun colors!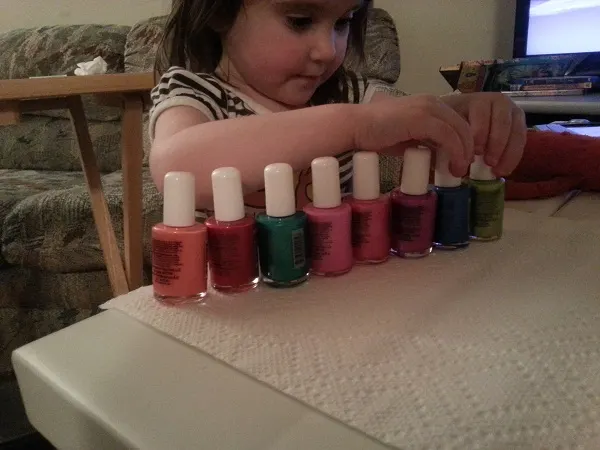 Rissa enjoys lining them up, identifying the colors, and counting them. In fact, I think she's having more fun playing with them than doing mani-pedis with me!
It was fun hanging out with her, painting our nails. She practiced patience and sitting still while I painted hers. (Unfortunately her nails are so tiny that I kept getting it on her skin.) She really wanted to paint my nails for me so I let her do one hand.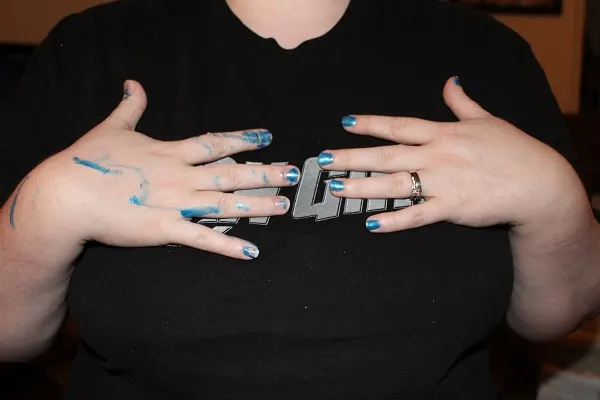 Can you guess which one she did?
Thankfully it washed off with some light scrubbing. Piggy Paint dries fairly quickly, but you can use a hair dryer while singing a couple rounds of ABCs to help dry them and make them chip resistant. We didn't get out the hair dryer (she would have hid, defeating the purpose), but I have noticed our nail polish is chipping really easily.
Now she wants me to paint her nails every day!
When's the last time you had a mommy-daughter date?
Piggy Paint Discount Code
Piggy Paint nail polish is available at PiggyPaint.com, at select Walmart stores and on Walmart.com. From now through 4/30/13 get a 15% discount when you enter the promo code "PiggyFun" at checkout.
Piggy Paint Giveaway
Prize: "Toe-Tally Fancy" 3 polish set ($24.99)
Winner must be 18 years or older and reside in the continental United States. Please note you are only eligible to win one giveaway prize per campaign. Giveaway will end at midnight on 4/4/13. To enter just leave a relevant comment below.
__________
Disclosure: I participated in a campaign on behalf of Mom Central Consultingfor Piggy Paint. I received a product sample to facilitate my review and a promotional item to thank me for participating.