Holidays are the perfect time to start new traditions and I'm lucky to have that opportunity right now. And wouldn't you know it? Hallmark, known for their ability to provide cards and other keepsakes worthy of tradition, is making it's way into our holiday traditions. I share a lot of products with you and I tell you my honest thoughts. Granted I like a lot of the products I share, but there are a few that I just lovelovelovelove! This is one of those.
Hallmark's Interactive Storybooks and Story Buddies are absolutely adorable! They have one holiday buddy, Jingle the husky pup, and four other "any day" buddies. We received Jingle and Watson the Raccoon. The are fun to read with because certain phrases will trigger them to respond!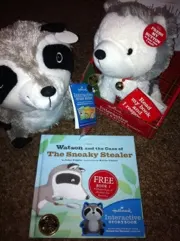 I had a lot of fun reading these to Rissa and watching
her
react to the Story Buddies responding to the stories. It's really quite neat. You do want to read clearly in a quiet room for the buddies to pick up your signals. Watson did perfectly despite my cold. Jingle did well but there was one phrase that I had to repeat a couple times slowly for him to respond. I think my cold (and losing my voice) played a part in that. They also sit up well. I found this to be important so we didn't have to juggle and hold everyone. They are also perfect for hugging!
The best part? There are more books! They will respond to their other stories too. I'm looking ahead to see about gifting a new book to Rissa next year. I'm excited to offer you a chance to win Watson. While we like Jingle, we find Watson to be more fun with his detective skills and talking. Jingle doesn't talk but he's very playful!
The giveaway portion ended and has been removed. The winner is listed on our winner's page.
______
FTC Disclosure: I received the product(s) mentioned above free of charge by the company or PR representative in order to conduct an honest review. I was not compensated in any other way for this post. The thoughts, experiences, and opinions included are entirely my own and may differ from that of others. I am not liable for any issues you may incur from use of said product(s). Images used are owned by me or provided with the company's permission unless otherwise sourced. See fulldisclosure information. If you have any questions you can contact me or leave a comment.