WorryWoo Monsters
We all have insecurities and times when we struggle to control our emotions. While we can usually deal with them better as adults, it can be hard to get kids to understand how to accept themselves the way they are. In 2001, Andi Green created artwork titled The Monsters in My Head. She sought to capture emotions and made them into huggable characters. Several years later after being frequently asked, she turned her artwork into a story and plush line now known as the WorryWoos.
I think they help as well as entertain by bringing emotions to life. There are currently five: loneliness, insecurity, confusion, innocence, and worry. I picked out Rue before I even knew he was for insecurity. I thought he was cute and he sort of reminded me of the sloth on Ice Age. Did I pick my own woo? It's possible…The plush is well made and perfect for hugs. I wasn't sure what Rissa would think, but she snuggled him right away.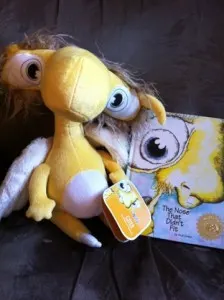 We've read through the story a few times too. Rissa likes to point at Rue's eyes throughout the book. I'm trying to teach her to say "Rue" since she keeps calling him "kitty." The story takes us on a journey where Rue tries to change how he appears, only to finally find someone liked how he looked.
I think these are a great addition to our bookshelves and would be great shower gift.
Connect with WorryWoos.com on Twitter and Facebook.
______
FTC Disclosure: I received the product(s) mentioned above free of charge by the company or PR representative in order to conduct an honest review. I was not compensated in any other way for this post. The thoughts, experiences, and opinions included are entirely my own and may differ from that of others. I am not liable for any issues you may incur from use of said product(s). Images used are owned by me or provided with the company's permission unless otherwise sourced. See full disclosure information. If you have any questions you can contact me or leave a comment.