My daughter and I love chicken, its our meat of choice around here, plus the possibilities are endless when cooking it. Yesterday I planned ahead for supper, not something I do often anymore, and got my slow cooker out.
4 boneless, skinless chicken breast
1 cup of carrots, diced
2 cups of potatoes, diced
1/2 onion, chopped
1 1/2 cups chicken broth
1 1/2 tbsp dijon mustard.
Place the above in the bottom of the slow cooker with chicken on top. Mixing the dijon mustard with the chicken broth and pouring over everything. Cook on low for 6-8 hours.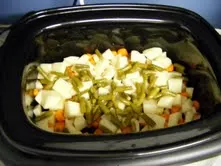 Mix the following ingredients together and add to the slow cooker. Let cook for another 20 minutes.
1 1/2 tbsp dijon mustard
1 tbsp honey
1 tsp thyme
3 tbsp flour
1 tsp garlic powder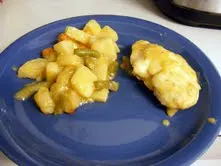 This meal pleases everyone in my house, my picky 2 year old that only wants rice and corn, and Hubby who wants nothing to do with vegetables.
Enjoy!