First, I wanted to say my Gro-to-Go review kit arrived yesterday from GroVia – yay! So, today's review crosses travel over into night diapering!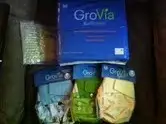 I'm pretty excited about the owls!!!
So I got a chance to check out the BioSoakers a bit. They are made to be biodegradable (although not sure on the elastic, as they note on the package. It kind of reminds me of a feminine pad.
It's really easy to use – just lay it inside the shell. There are tabs on each end to remove so they stick in place. I did have to make sure the sides were tucked inside the shell around the legs. Rissa seemed to know she was wearing a "new" diaper and pooped in it. It crept upwards in the back but the shell kept the mess contained, sacrificing itself.
Okay – now onto the Stay Dry boosters! I received them earlier to try out (along with the BioWipes I talked about the other day) and decided to hold my review until the event. The Stay Dry boosters have three layers of organic cotton and are topped with polyester fleece. The booster lays on top of the snap in soaker to increase absorbency and keep baby's skin dry.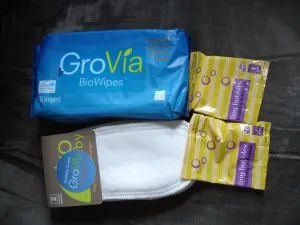 I have used these for longer car rides, for naps, and overnight. I was nervous using it overnight, but it did the trick – no leaks! I've also used the boosters on top of prefolds. They are pretty slim and trim, so it doesn't bulk up the diaper. They are long to fit as one size, but can be folded and tucked as needed.
I like that these boost up the absorbency without a lot of bulk, plus keep her drier like a pocket's lining does. While I have used them overnight, I like them best for errands, car rides, and naps!
____
** FTC Disclosure: I received the product(s) mentioned above free of charge by the company or PR representative in order to conduct an honest review. I was not compensated in any other way for this post. The thoughts, experiences, and opinions included are entirely my own and may differ from that of others. I am not liable for any issues you may incur from use of said product(s). Images used are owned by me or provided with the company's permission unless otherwise sourced. See full disclosure information. If you have any questions you can contact me or leave a comment.