When it comes to diapering overnight, you want a thirsty diaper! A diaper that will gladly soak up the wee and keep your little one's skin as dry as possible. I think Thirsties are aptly named, don't you?
I have loved our Thirsties diapers that we've bought and reached out to them to see if they'd be interested in working together for this event. They were happy to do so, which made me even happier! They are definitely passionate about their diapers, which is important. If they aren't passionate, how can we be? Right?
Thirsties® is a small (but growing!) cloth diaper company committed to greener parenting and Eco Friendly solutions, not to mention 100% USA Made quality! Erin, founder of Thirsties, started this business with an old sewing machine and $100 5 years ago. Through her hard work and diligence, the company is now one of the leaders in the cloth diaper industry. Our diapers are now made by work at home mothers, and very close to our warehouse, reducing our carbon output. Our customer service reps are experienced cloth diapering moms, and offer our knowledge to our retailers and customers alike.

Here at Thirsties, we aim to provide the very best product and customer service! If you ever have any questions or concerns, please let us know!
Seriously, how amazing is that? They've really come a long way and continue to connect with their customers.
Thirsties was one of the first brands we purchased as we ventured into cloth diapering back in January. We have two Duo Wrap covers, two fitteds, a hemp prefold, and now two Duo Diapers. I bought a Duo Diaper Size 1 in Honeydew (a lovely yellow!) months ago.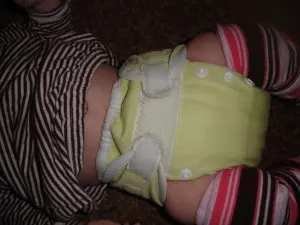 It quickly became my favorite for night time. The shell is waterproof and paired with leg gussets, it keeps everything contained. I cannot recall ever having a leak from our Thirsties diapers. The openings on either side make stuffing so easy. Plus, I don't have to remove the inserts – just drop it in the diaper pail and into the wash! The washer with agitate the inserts out.
Thirsties Duo Diaper provides 7 layers with the two inserts that snap together (one is a hemp jersey and cotton blend, the other is microfiber terry). I've never tried using just one insert during the day since they are designed to be paired together. The terry absorbs quickly so it's great for grabbing the heavy stream while the hemp and cotton help soak it up more slowly. (The terry should be on top, next to the microfleece liner, although we've had success having them the other way too.)
Now, I don't ONLY use their insert pair at night. I do during the day or for a nap, but I do add an additional insert or a prefold under the inserts for night time. The liner keeps her skin pretty dry and is designed to be stain resistant. This is good since she often likes to poo before she wakes me up in the morning! (We don't have any stains!)
The Duo Diaper is designed to cover approximately two sizes, meaning you'd only have to buy two different sizes from birth to potty training rather than several sizes along the way like for sized diapers. While I like one size for stretching the budget, I do like how the duos fit a bit better. Rissa is skinny and long, so this has been… interesting.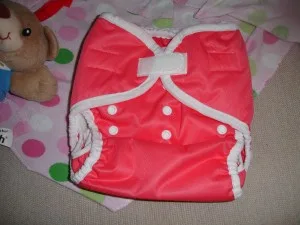 For review, I selected a Rose Duo Diaper in Size 2. Although Rissa is not at the end of the weight or age range for Size 1 (she's only about 15lbs at 7 months old), she is ahead on height. Our Size 1 still fits, but we've been completely unsnapped on the rise for more than a month. And with the bulk the extra insert adds, I can tell it's getting short on her. The Size 2 is still a bit big on her around the waist, but the rise is nice when snapped all the way down. Thankfully the gussets keep the thighs from gaping!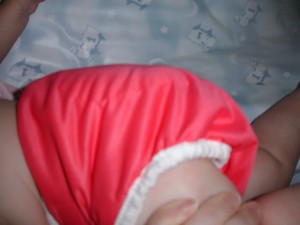 Also, while most diapers seems to leave marks no matter what I do, Thirsties doesn't really leave any around her legs. Sometimes a bit around the waist.
We've used our Size 1 so much that the hook and loop is looking kind of ragged already. The laundry tabs on our Size 1 haven't kept like they should in the laundry, but the Size 2 tabs seem to be better.
I lovelovelove our Duo Diaper, but I do wish it was offered in snaps. The hook and loop is nice for crossing over and getting a good fit around the waist, but I just love snaps.
** Buy it! **
Find Thirsties Duo Diapers on Amazon (affiliate link)!
Giveaway over
_______
** FTC Disclosure: I received the product(s) mentioned above free of charge by the company or PR representative in order to conduct an honest review. I was not compensated in any other way for this post. The thoughts, experiences, and opinions included are entirely my own and may differ from that of others. I am not liable for any issues you may incur from use of said product(s). Images used are owned by me or provided with the company's permission unless otherwise sourced. See full disclosure information. If you have any questions you can contact me or leave a comment.