I say that too often. Rissa was getting better at keeping random things out of her mouth, but lately she is doing it again. It's mostly toys. No matter how many times in a row I tell her to get it out and/or remove it…. She will sneak it back up to her lips.
Today while I was trying to get some work done (read: shopping on Amazon) Rissa came running at me making a weird noise and wagging her tongue.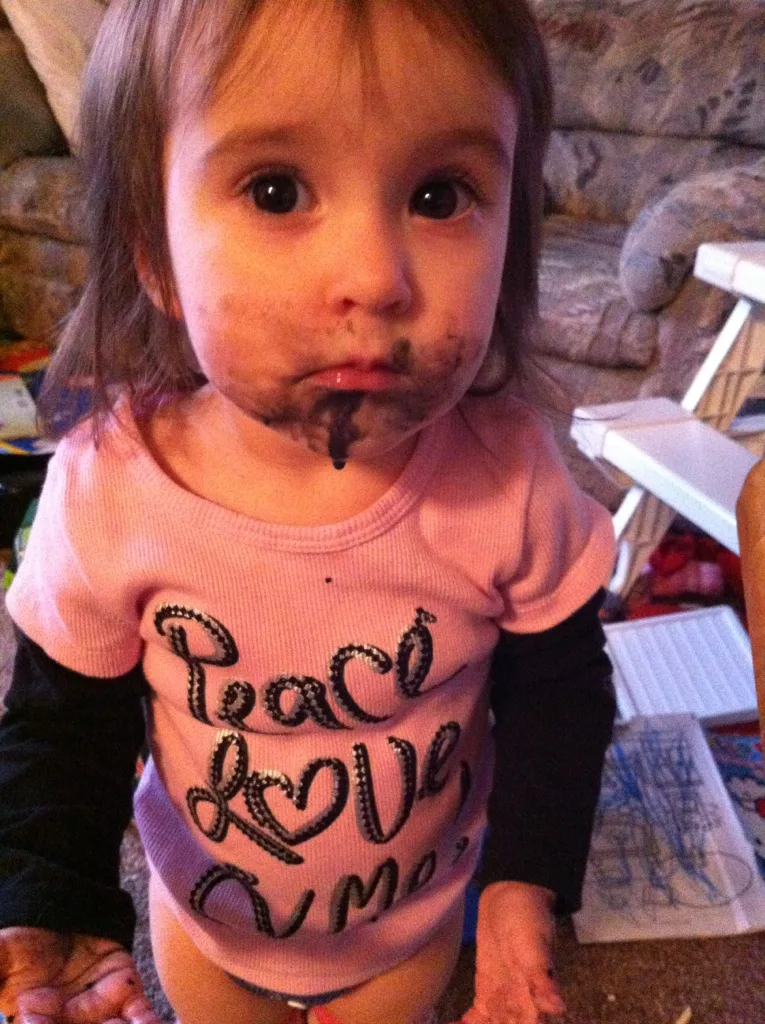 I look up to see this face. Difference is, when I see it her mouth is open and all black. Her teeth and tongue are covered in a black sludge as her little hands claw gloopy crud out, splattering it on her shirt and nearby toys.
Once I discovered a black crayon clutched in one hand and scooped a few crumbled chunks out of her mouth I stopped to take a picture.
I know, mom of the year I am not!
Rissa kept trying to spit out the yuck caught in her teeth and slathered over her tongue. I was puzzled as I stared at the busted black crayon in my hand. How the heck did it cause such a mess?
The paper wrapper had been ripped off a few days ago but I knew it was one of her new ones she received for her birthday. I remembered reading about a new washable formula on the back of the box. I'm guessing that's why it got so mushy and sludgy.
I'm not looking forward to her diaper later when she passes whatever bit of crayon she ingested. And she needs a new toothbrush.
What's the strangest mess you ever found?