Funny Things My Toddler Says
As Rissa's vocabulary, pronunciation, and chattiness grows so does the amount of things she says that we find amusing. Kids…they can be so silly! Of course some of the things she says are cute coming out of the mouth of a 2 year old but would not be cute from a 20 year old.
You'll see what I mean in a minute…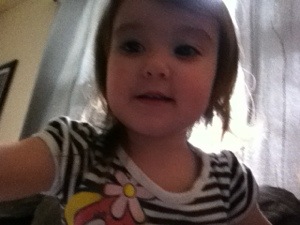 "Mom I'll help you. We're friends."
Pushing toy shopping cart: "Rissa go shopping for stuff again. Where's the stuff? Rissa buy it. Rissa need it."
"Baby Xander is so cute and smart."
Hands me a half eaten apple slice: "Here you go, mama. Rissa share."
We're watching Go Diego Go! and he's helping a penguin. They say to clap, clap, clap.
Me: Clap, Rissa!
Rissa: Penguins don't have hands they have feathers. That's silly.
(Yet she thought it was fine it talked..)
Me: Did you poop?
Rissa: Yeah…
Dad: Ok let's go change you.
Rissa: (she backs up to me) Mama smell it?
Anytime we are getting dressed or her top comes off while eating spaghetti: "Rissa naked!"
She's making up songs like "Clap your hands, clap your feet, clap your nipples."
"Scratch your butt with me, mama?" Can we just stick to counting together?
I need to get better at keeping record of her funny sayings. I always think I'll remember them, but I forget after a day or two.
What's something funny your kiddo has said lately?
Subscribe
Get weekly sanity saving parenting tips, recipes, and kids activities.
Written by
darcy
Darcy lives outside of Milwaukee, Wisconsin with her husband, their two kids under 7 years old, two cats, and a rescue dog. She loves to share kids crafts, simple recipes, and parenting tips to help other moms. She's passionate about education (which is why she is a PTO board member and Box Tops Coordinator) and all things babies. Darcy loves purple, geek culture, and making an ordinary life feel extraordinary. She and her family enjoy exploring Wisconsin and planning local adventures. Author of Breastfeeding 101: Beauty in Breastfeeding, available on Amazon. Her writing has also been featured on Babble, CafeMom, and Mom.me.
View all posts by: Darcy Zalewski