I've shared tidbits about me (and my family) all over his blog, there's still more for you to learn about us. You already know the coolest fact which is Brian and I share the same birthday, but I have more fun things to share… Not that we are the most fascinating people or anything, but maybe that's why these lists are so interesting. You get to see that I'm not so different from you. (Or maybe I am?)
Maybe that's comforting… Or a relief? I don't know. Maybe it's just paving the way for us to become online besties! (Did I just use that word? I hate that word…)
Anywho here are 5 random facts about my family:
1. We're gamers. Even if I don't get a lot of time for it these days I am still one deep in my heart. Heck I wrote about gaming for a couple years. Both Brian and I grew up gaming and Rissa has already been introduced to it as well.
2. We're metalheads. Yup, it's true. Well I can't quite speak for Xander yet. We do listen to a variety but our preference tends to be heavy metal and all (well most) of its many genres. Rissa can headbang and continues to work on throwing the horns. \m/ Her love of rock 'n roll began in the womb.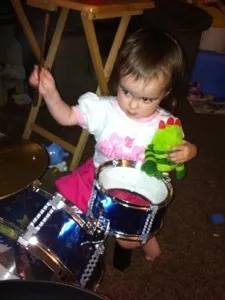 3. Brian is our family historian. He's quite passionate about genealogy and writes about it too. He's found some very fascinating things like my connection to English royalty. (All hail Queen Darcy! has a nice ring to it dontcha think?)
4. My daughter and I have the same dimple in the same spot on the left side… Top of the cheek dimples aren't super common I don't think. Not as common as middle of the cheek anyway.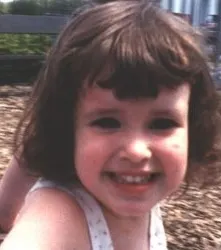 Wow it was much harder to find pics to share that show you this than I thought it would be! On the left is a young Darcy. On the right is old Darcy with Rissa.
5. Brian is the only one baptized. I'm not and neither are my children. (No we aren't Satan worshippers – don't worry!) Someday I should write more about this, eh?
If that has left you wanting to know more…. here's 10 Things You Probably Shouldn't Know About Me…first one is about my fear if clowns. *shudder*
Did any of these surprise you? Tell me some random facts about your family!