For the past couple months I've felt bad about the lack of toddler playmates my daughter has in her life. It seems like she should be around more kids her age on a regular basis, yet we've struggled with this. I hate to think I'm doing her a disservice by being home with her when there is socialization in daycare. Yet, I know me going back to work really isn't the answer or the solution.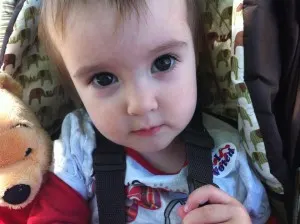 But, every time I get an email newsletter about various toddler-parenting topics and they mention your child's friends… I'm saddened knowing my daughter doesn't have friends… through no fault of her own. She's only a year and a half old and her favorite playmates are my husband and I, but I worry that it's not enough. She's so friendly when she encounters other people, especially kids and babies (gosh how she loves babies!), when we're out and about shopping or dining out.
Mom groups and playdates have been suggested to me in the past and seem to be the solution I keep reading about, but so far those haven't worked for us. We are down to one car now, so during the week while Brian is at work, we can only access things within walking distance. I already find trying to meet other moms intimidating (why does it get so hard to meet and make new friends as we get older?) and way too much like dating.
Now, I did join a moms group at the beginning of the year. I tried to go to a few meetings and activities and even tried to host a few playdates at my house. Unfortunately, the group was fairly large but cliquey. More than once no one showed up to the activities I planned and the last straw was someone being blatantly rude to me at one of the group member's activities I was able to borrow the car for. I've already been through high school and I don't care to go back, thankyouverymuch.
The most saddening part to me is I didn't really care about making new friends for ME. I'm a pretty tolerant person and get along with just about anyone. I just wanted Rissa to have someone to play with!
So, since those routes have yet to work for us… I am doing my best to find other ways to provide Rissa with regular socialization with kids around her age throughout the summer. This week kicks off two of those weekly activities! We started attending storytime at the library. The summer session just started, so that's once a week and free. I enrolled her in a weekly tumbling class (not free) and she will be having two weeks of swim lessons in July (also not free). I'm hoping these activities may lead to friendships – for her definitely; for both of us, maybe. Even if they don't lead to anything else, they will give her time around other kids. It's not free play, but it's better than nothing, right?
How do you socialize your kids? When did they start having actual friends?