The other day I shared how I find my daughter's laugh to be magical. Since she's my baby girl, I adore her giggle, but really I love all baby and toddler giggles. I used to (and sometimes still do) the most ridiculous things to try and get my daughter to laugh. Now that she's more ticklish and developing a sense of humor it is easier, but there were times when she was an infant when I missed the mark.
If only we had a Giggle Gang character back then…
Fisher-Price knows how precious giggles are so they just introduced 6 Giggle Gang characters who each have their own unique giggle. With a squeeze or a shake, they will laugh and coo for a few moments which is sure to delight your little one. They sound like babies so babies will love it, of course! They are perfect for babies 6 months and up – even my toddler enjoys hers! (And they come with batteries – yay!)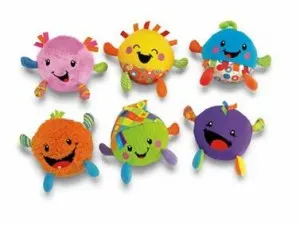 We received Goldie and Kiwi (the yellow and green ones), though I only let Rissa have one. She picked Goldie, so Kiwi is being saved for Baby #2! Goldie is super cute. She's round and soft, making her very huggable. Her arms and legs are easy to grasp and she has fun tags, great for sensory exploration! She laughs, giggles, babbles and makes this cute purr like sound, which Rissa tries to imitate every time then laughs. I like that once the character has been squeezed or shook enough to make sounds, it continues for a bit without further action needed. I think this helps keep baby's attention and interest.
These are so adorable and would make a great baby shower gift idea for a baby boy OR girl. And if you don't know what they are having, it's a pretty good gender neutral option as well!
Giggle Gang plush toys are available in stores for about $12.99 or on Amazon.
_____
Disclosure: We received two toys to review; no other compensation was received. These make us smile! Affiliate link for Amazon included.