They say life changes when you have children. It also changes when our life as we know it is at risk. Combine these two things together and life's perspectives take on a very powerful role in how someone handles their situation. Today we share with you Jim Higley's book, Bobblehead Dad: 25 Life Lessons I Forgot I Knew, which just released this month. (We received an Advanced Reader Copy.)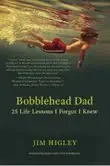 About this book:
An inspirational account of one dad's extraordinary journey through cancer, fatherhood, and several forgotten life lessons—and the discovery of one life-changing gift.

JIM HIGLEY WAS A FORTY-YEAR-OLD BOBBLEHEAD. Just like those collectible figurines withoversized, bouncy heads, he'd put on a smiling face and bobble through his hectic, overflowingdays.

Higley's bobbling came to a screeching halt with the diagnosis of cancer, surgery, and asummer of healing. More than a cancer story, however, Bobblehead Dad puts the reader in afront row seat as the author discovers the illuminating parallels between events in his childhoodand his adulthood. Higley, whose weekly fatherhood column appears in the Chicago Tribune's TribLocal, unwraps poignant lessons from his family history with rich, vivid detail. His storyreveals meaning in simple moments and the people who fill them—including the surprisediscovery of his most important lesson, which had been quietly waiting for over thirty years.

Written in an informal but eloquent style, Bobblehead Dad keeps readers laughing, crying and—most importantly—thinking. Higley's distinctive storytelling rhythm, combined with a knack forhandling heavy topics with an embraceable voice, quickly draws readers into his experiences—while launching them on their own journey of self-discovery and reflection.

A portion of the book proceeds will be donated to Imerman Angels, 1-on-1 Cancer Supporthttp://www.imermanangels.org/
I had some help on this review from Brian, who read the book. Here are his thoughts on it:
I read Bobblehead Dad over the last few weeks and I really enjoyed it. The author, Jim Higley, is very good at pulling you into his stories and making you feel like you were there. I happened to be reading this during a time when a co-worker of mine was also battling cancer, so it felt like the book had more meaning. Sadly, during my time reading, he lost his battle with cancer unlike Mr. Higley. Even if you aren't battling cancer or know someone who is, Higley's life lessons are great for anyone and everyone. Sometimes in life we all lose sight of what's really important. This book definitely helps clear a bit of that path.
It sounds like a good read for anyone, but I think it has a special connection with dads – new and experienced.
A copy of this book is being sponsored for one of our prize packs for the I Love My Daddy giveaway event!
____
** FTC Disclosure: I received the product(s) mentioned above free of charge by the company or PR representative in order to conduct an honest review. I was not compensated in any other way for this post. The thoughts, experiences, and opinions included are entirely my own and may differ from that of others. I am not liable for any issues you may incur from use of said product(s). Images used are owned by me or provided with the company's permission unless otherwise sourced. See full disclosure information. If you have any questions you can contact me or leave a comment.