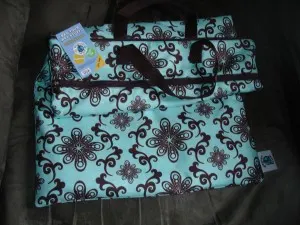 Throughout Summer Fluffin', I think I've said a couple times that you need a good wet bag. It's important to store your wet and soiled diapers until it's time for laundry. While washing every 1-2 days is ideal, I think most of us are looking at every 2-3 days. It's usually every 3 at my house with a few times of every 2 and a couple 4s in there.
If you don't have a good place to put them, then they get very nasty and stinky! And the room gets nasty and stinky! Yu-uck!
I've tried a drawstring wet bag, a pail liner and now, a hanging wet/dry bag! This hanging wet/dry bag isn't my first Planet Wise product. The little zippered wet bag we have for our diaper bag is also made by Planet Wise. I bought it when I was starting out and honestly, I didn't pay much attention to the brand when I bought it from an online diaper shop. (I'm still in need of a second little wet bag. This is how I know you should have two… I always seem to need it when it's in the laundry!
I was happy to work with Planet Wise and try the large hanging wet/dry bag. This bag measures 16.5″x27″ and has two different zippered sections. The main inside section is for wet items which is lined with an amazing seamless waterproof bag. I cannot see any seams and this makes it near impossible for moisture to wick through. There is also a side zipper section for dry items. The handles, zipper and waterproof inner all coordinate plus the cotton designer print make it a nice looking bag! It can be washed and dried with your clothes or diapers.
At first I wasn't quite sure how I was going to hang it, but I am able to hang it from one handle on one of the changing table knobs.
While the zipper is made to stay in place to avoid it opening when it shouldn't, I did find it hard to open with a diaper in my hand. I tried to remember to unzip it first, before starting the change. However, I did forget many times until I'm holding a dirty diaper that must be handled very carefully and can't be set down.
I am very pleased with the amount of diapers it can hold. Although these are clean (thus easier for me to stuff down because I'm not concerned with what I'm touching…) I experimented after diaper laundry day to see what I could stuff inside this bag since the website says it will hold 20-24 diapers, but wet and dirty pieces are usually going in separate:
So what did I get into the bag?
14 covers/shells
10 prefolds
1 fitted
8 inserts
12 cloth wipes – still room!
Not too shabby! Easily 2-3 days worth!
I don't know quite how the magic works, but it does lock the stink in quite well. The nursery rarely smells like wet and dirty fluff unless I didn't zip it alllll the way back up. Otherwise, I get whiff when opening and closing it.
I took this along when we went out of town Memorial Day weekend. I kept it in the backseat for easy access during diaper changes in the car. At the hotel, I hung it on the corner of a chair. Not only was I able to put the wet and dirty diapers into the "wet" part of the bag, but I was able to put mine and Rissa's dirty clothes in the other zippered pocket. (I hate mixing clean and dirty clothes in the suitcase… and I always have some clean stuff left over due to packing extra! Best part? We couldn't smell the diapers on the trip home! (I also don't smell the diapers in the mini wet bag that get forgotten for a few days…)
When it's laundry time, I carry the bag downstairs, unzip the top, dump the diapers into the washer, and add the bag on top. Sometimes the handles wrap and twist around the bag and diapers, which can be frustrating to untangle before tossing things into the dryer. The inner waterproof section comes out during the wash, so I hang it over the line to dry. Then, I stuff it back inside. I have not felt any wicking. I have a different bag that I can feel some dampness on the outside on the bottom of the bag as I dump the diapers in. It's kinda gross. This doesn't do that!
I really like our Planet Wise bags. They have fun prints and are useful bags. They do well at keeping the stink inside! Only a couple minor things that bug me from time to time, but these do not affect the function of the bag. It's also versatile – can be used for more than just cloth diapers! I definitely recommend using it while traveling.
** Buy It! **
Planet Wise has a variety of reusable bags – from snacks to dirty diapers!
** Win it! **
Planet Wise Inc. has generously offered a giveaway!
Prize: Hanging Wet/Dry Bag (Winner's choice of print RV$29.99)
Open to Continental US and Canada residents; 18+
Giveaway will be open until 11:30pm central on June 27th.
Leave one comment per entry. We now have the WordPress plugin "And the winner is…" that will randomly select the winning entry. Winner will be emailed and have 48 hours to respond or a new winner will be selected. See full giveaway policies for additional details. You do not need to leave your email in the comment, just in the name/email form lines.
Mandatory Entry:
+1 Visit Planet Wise and tell me what color/print is your favorite?
Optional Extra Entries:
+1 "Like" Planet Wise on Facebook
+1 Follow @Planetwiseinc on Twitter
+1/EACH Follow Tales From the Nursery, Formula Mom, and Mama on a Green Mission publicly on Google Friend Connect (GFC) – Leave your GFC name please and who you follow (separate comments for each)
+1 Subscribe to Tales From the Nursery by email (must confirm)
+1/EACH Enter another Summer Fluffin' giveaway hosted here on TFTN. Leave a comment telling me for each one you entered.
+1/EACH Leave a comment on a Summer Fluffin' topic post (non-giveaway). Leave the topic or post title in your entry.
+1 Tweet this and leave direct link to it: Enter to #win a Hanging Wet/Dry Bag from @Syrana and @Planetwiseinc! US/Can; Ends 6/27 #clothdiapers #giveaway http://bit.ly/kmPVYv
** Interested in more extra entries? Check out >>THIS POST<< and follow the directions – Label them "EXTRA 1, EXTRA 2″ etc. Remember, you can apply those extras all to one giveaway or split them up over several giveaways during the event. **
_______
** FTC Disclosure: I received the product(s) mentioned above free of charge by the company or PR representative in order to conduct an honest review. I was not compensated in any other way for this post. The thoughts, experiences, and opinions included are entirely my own and may differ from that of others. I am not liable for any issues you may incur from use of said product(s). Images used are owned by me or provided with the company's permission unless otherwise sourced. See full disclosure information. If you have any questions you can contact me or leave a comment.