When I was pregnant, I received mixed information between books and baby prep classes about how to take a baby's temperature. Some still claimed rectal temperature was the way to go, but one nurse kept telling me that method was outdated and not recommended. I didn't really know what to think, but thankfully baby girl has only had one short, mild fever. I was not about to take her temp from behind. This girl is too squirmy. There are times I'm lucky to get her diaper fastened correctly!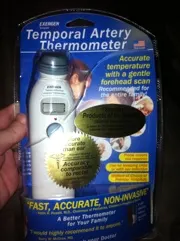 When I heard about the Exergen temporal scanner, I was intrigued. Since I had not been using the old school bum temp, I was trying to get her under arm temperature.
Do you have any idea how difficult it is to keep an active child lying still with their arm tight to their body for like… a minute? It really feels like 5 minutes before the thermometer beeps and I'm usually lucky that it hadn't come out of her arm pit a couple times in the process.
Major pain!
I know I like ear ones, but they say those aren't great for baby's either due to the ear canal still developing and issues if they have an ear infection. I basically decided my hand would be the thermometer.
But now I can easily take temperatures! While I was interested in the temporal artery scanner, I was a little skeptical about it's accuracy. It's super easy to use: take the cover off, press the button, and swip it from mid forehead to temple. I used it on myself, on Rissa and on my husband. The readings were pretty consistent after multiple scans per person. I was able to take Rissa's temperature while she climbed over my lap. I could do it in her sleep.
No more pinning her down!
I'd even be able to take her temp in her sleep. It's awful waking a sick child just to take their temperature. The blood flow that runs through that artery is scanned multiple times in a matter of seconds to calculate the temperature. It even accurately read the air in the house! And if the forehead is all sweaty, you use it behind the ear. I tested this on myself and my husband and the results were consistent with taking it from our foreheads.
Final thoughts: I'm happy that we have it! I no longer dread trying to take my daughter's temperature when I suspect she's running hot. This would make a great (and practical!) baby shower gift.
Where to buy: It's available at most major retailers and on Amazon.*
Giveaway!
To enter, please fill out the Rafflecopter form below. Comments will not count as official entries. Duplicates will be removed.
______
FTC Disclosure: I received the product(s) mentioned above free of charge by the company or PR representative in order to conduct an honest review. I was not compensated in any other way for this post. The thoughts, experiences, and opinions included are entirely my own and may differ from that of others. I am not liable for any issues you may incur from use of said product(s). Images used are owned by me or provided with the company's permission unless otherwise sourced. See full disclosure information. If you have any questions you can contact me or leave a comment.
*Affiliate link