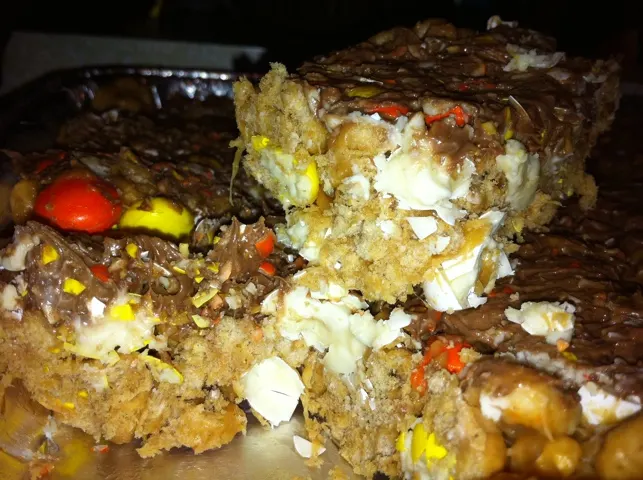 Spooky O's: Cheerio Crispy Bars
What you'll need:
9×11 greased pan
1/2 stick butter
1 package of mini marshmallows (10.5 oz)
1-1/2 c of White Chocolate Candy Corn M&M's (or any, but these are the perfect colors!)
3 c regular Cheerios
1 c Honey Nut Cheerios
1 c Creamy Peanut Butter
Optional topping: (directions at the bottom)
1/2 cup m&ms and 1/4 c of semi sweet morsels to melt
Directions:
1. Grease a 9×11 pan
2. Melt butter and marshmallows in a pot on the stove on med-low heat stirring frequently with a greased spoon. (You can do it with the microwave but I find this is easier for more even melting)
3. Stir in peanut butter until marshmallow mix is well blended
4. Add Cheerios and M&M's and stir into the mix, coating it.
5. Press into the pan. Let it cool and cut into squares. Store loosely covered.
These are very yummy and addicting. I don't know if it's the extra peanut butter, but they don't dry out like rice crispy bars can.
Optional topping directions:
This takes time and patience so you will want to start this before you begin melting marshmallows.
Melt M&M's in a double boiler
Use a spoon or heat resistant spatula to break them up as they start to crack and melt
Continue softening and melting them. When you are satisfied, add morsels. I never got the white chocolate very runny, melty. It wanted to stay in a clump. The shells make nice flecks in the mixture.
Spread it on top quickly. It'll be thick like frosting and will cool off fast