The 12 Days of Gifts Galore giveaway event is coming up November 25th through December 6th. Be sure to come back then and enter to win a prize from this event sponsor!
Halo SleepSack
The Halo SleepSack is well known and a trusted brand for safer sleep options for babies. Unfortunately the start of the wearable blanket is sad, it has been beneficial for numerous babies as it is the #1 choice of Us hospitals for safe sleep. William Schmid began researching sleep environments after he and his wife lost their baby to Sudden Infant Death Syndrome (SIDS) in 1991. Three years later he worked to develop the original Halo SleepSack and offer safer sleep options for babies. A percentage of sales goes towards SIDS research.

SIDS is scary. The idea of no loose blankets makes sense, but having a late fall baby, I knew she was going to need to be dressed warmly for bed. I was nervous about swaddling her with a receiving blanket when laying her down because it could become loose. We did use some baby gowns, but she always kicked enough to expose her little legs and feet. I started using wearable blankets and worried less about it covering her face or being kicked off, leaving her cold. At first she would try to kick it off, but she eventually got used to them.
I have a cotton Halo SleepSack that I really like for the warmer months. The regular sacks have created a bit of a challenge since Rissa started walking though. After she is dressed for bed, she does have some time up and moving yet. How could she walk? Well, I started unzipping the bottom and keeping her legs out until she laid down, then tucked them back in, but that's not a good solution in the long run.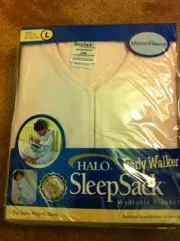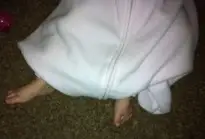 I was very happy to review the Early Walker SleepSack. It has little foot holes so toddlers can walk. The sack kind of covers the feet or they can pull them in. We received a microfleece one which is perfect as the cold weather settles in. Though I received the right size based on her age and height, she is still too small weight-wise. So it's very baggy on her right now and watching her move in it is quite comical, but it serves its purpose. She definitely has room to grow, which is fantastic! And like the other SleepSacks we have, this one also zips down – allowing for access for diaper changes. I have run into a couple instances where the zipper on the Early Walker one has issues after being laundered, so I have to make sure it's unzipped. I've gotten it unstuck but it's not easy to do when the teeth separate behind the zipper head. (Instead of unzipping, it's zipping because they separated) I've never had this issue with the cotton ones with metal zippers.
I highly recommend using Halo SleepSacks and think they belong on every baby registry!
Connect with Halo SleepSack on Facebook and Twitter.
______
FTC Disclosure: I received the product(s) mentioned above free of charge by the company or PR representative in order to conduct an honest review. I was not compensated in any other way for this post. The thoughts, experiences, and opinions included are entirely my own and may differ from that of others. I am not liable for any issues you may incur from use of said product(s). Images used are owned by me or provided with the company's permission unless otherwise sourced. See full disclosure information. If you have any questions you can contact me or leave a comment.