We don't normally send out Easter cards. It just isn't one of those things my husband and I normally do; however, this year, I kind of wanted to send out Easter pictures of Rissa. Since she grows so fast, I'm trying to remember that buying fancy dresses aren't a wise choice right now (at least not when they are full price, ha!).
My sister had given me a cute bunny outfit with some other baby clothes that were donated to me, but I didn't want to dress Rissa up like a bunny. I wanted to do something that fit Easter but was a little different. When I received the opportunity to review a costume from the Costume Supercenter, I couldn't believe the great timing!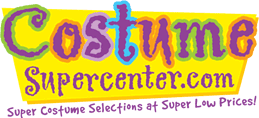 There are so many choices that I already started to browse for a Halloween costume for Rissa! But, I had to focus on now… so I decided upon the Pink Lamb Costume.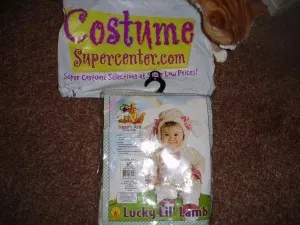 Isn't it adorable? (Cat not included.)
I was pleased with how quickly it arrived. The material was soft and there's an inner layer that seems to help let the costume breathe which was a little scratchier feeling. I got the 6-12 month size since Rissa is almost too long for 3-6 already. Since she's a skinny minnie I was able to fit it over her clothes. I fit it over a onesie, pants and a bib and it fit fine. I liked that because then I didn't have to worry about how it felt against her skin (or the extra wrestling). There is plenty of room for her to grow into it yet, since there was a lot of room at her feet.
Honestly, I was a bit concerned about picking out a footed costume due to her height, but it worked out fine. The head piece goes on like a hat with some velcro under the chin. I also loved the velcro opening in the legs for diaper changing! I actually didn't realize it was there until after I had gotten her dressed in the lamb costume. Definitely a plus!
Brian teased me about dressing up our daughter. I reminded him that is what mother's do: we dress up our babies and take pictures because soon they won't let us dress them at all! He also said it reminded him of Ralphie from A Christmas Story, but she was having way more fun. Trust me!
Next time you need a costume, keep the Costume Supercenter in mind for you and the kids! Even if you have a teeny tiny one, you can still find great infant costumes. They are seriously too cute! My sister-in-law is due around September, so I hope she'll want one of these:
Conclusion: I really want to get another costume from the Costume Supercenter in the future!
_________
** FTC Disclosure: I received the product(s) mentioned above free of charge by the company or PR representative in order to conduct an honest review. I was not compensated in any other way for this post. The thoughts, experiences, and opinions included are entirely my own and may differ from that of others. I am not liable for any issues you may incur from use of said product(s). See full disclosure information. If you have any questions you can contact me or leave a comment.