Growing up I loved Winnie the Pooh. Such a classic! I liked Winnie the Pooh so much I even dated a guy named Christopher Robin once. (True story on his name, but not my motivation – ha!)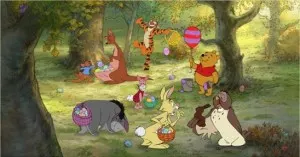 Well, Pooh and the rest of the Hundred Acre Wood will be returning to the big screen on July 15th! It's a few months away, but I thought you might enjoy some Easter fun with Pooh!
Free Coloring Pages
(Just right click to "save as" then print)
Egg Decorating
WINNIE THE POOH is our beloved 'hunny'-loving bear, so why not choose one of his favorite things – a honey jar – to create as an Easter egg? You want it to look like a real honey jar so use tape to cover the top of the egg where the lid will be and also a wide strip of tape around the middle for the 'HUNNY' label. Boil half a cup of water, mix in 30-40 drops of blue food dye, and one tablespoon of white vinegar. When it cools, gently lower the egg into the pot. The longer the egg remains in the pot, the darker the color gets! Once you are happy with the color, take it out with a spoon, dry it and remove the tape. Then stick the word 'HUNNY' in tape to the egg, and pop it back in the pot, just for a few seconds to make the 'label' pale blue. Finally, you can use acrylic paint for a blob of honey and leave the word 'HUNNY' in the egg's natural color. If Pooh could see your Easter egg, he might think it looked so much like a honey jar that he would keep it in his personal collection!
TIGGER would be ecstatically happy about painting Easter eggs. You could have a go at painting an egg that looks like Tigger! First, use an orange watercolor crayon to paint the entire egg orange. While it dries, bounce around a bit – Tigger – style! Then draw in the tiger stripes with a steady hand and a black marker and fill them in with a black watercolor crayon. You can use a pink button for the nose and draw on eyebrows, eyes, mouth and whiskers with the black marker. Tigger-tastic!
EEYORE we all know would probably be less excited about painting Easter Eggs, so why not create one of his favorite food — thistles, of course! All you need are some crayons, a little spinach and also purple and green acrylic paints. Draw the thistle with a crayon, to prevent the area from being dyed. Boil the spinach, letting it simmer for 45 minutes. Put the egg into the water to color it green. The crayon colored thistle won't dye (due to the wax in the crayon), so you can use acrylic paints to finish your egg. Even Eeyore would have to admit it looks pretty sweet.
PIGLET loves his friends, and his motto is "Even if you are rather small you can still have a very big heart." Why not paint a Piglet style Easter egg, with huge hearts on it? First, draw seven hearts with a marker, and then use small pieces of sponge with different colors to paint the egg. You can paint the whole egg pale blue like the sky and then paint each of the hearts with one of the colors of the rainbow: red, orange, yellow, green, blue, indigo and violet. Piglet would love this Easter egg because it's small and cute, just like him!
To have more adventures with Pooh and friends go and see WINNIE THE POOH, the brand new film by Disney, in theatres July 15th!
ABOUT THE MOVIE
Walt Disney Animation Studios returns to the Hundred Acre Wood with "Winnie the Pooh." Featuring the timeless charm, wit and whimsy of the original featurettes, this all-new movie reunites audiences with the philosophical "bear of very little brain" and friends Tigger, Rabbit, Piglet, Owl, Kanga, Roo—and last, but certainly not least, Eeyore, who has lost his tail. "Ever have one of those days where you just can't win, Eeyore?" asks Pooh. Owl sends the whole gang on a wild quest to save Christopher Robin from an imaginary culprit. It turns out to be a very busy day for a bear who simply set out to find some honey. Inspired by three stories from A.A. Milne's books in Disney's classic, hand-drawn art style, "Winnie the Pooh" hits theatres on July 15th!